Library hosts line dance class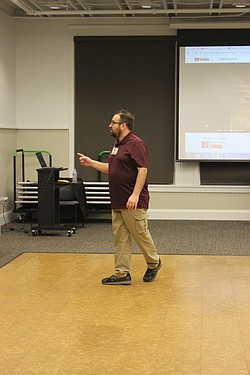 Photo
Neighbors | Abby Slanker.Librarian and instructor Stuart Gibbs taught a line dancing class at the Canfield library jan. 24.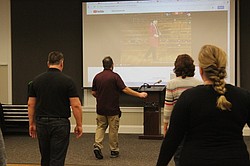 Photo
Neighbors | Abby Slanker.Librarian and line dance instructor Stuart Gibbs led attendees in learning to line dance at the Canfield library on Jan. 24.
By ABBY SLANKER
The Canfield library hosted a Learn to Line Dance class on Jan. 24.
Instructor and librarian Stuart Gibbs taught both beginner and intermediate line dances to attendees.
The idea for the class came from Gibbs.
"I had the idea to offer this class because we wanted to do something different. This class includes physical exercise and will help people get moving. We have chair yoga, but I wanted to get people really moving. This class is for anybody and everybody. We hold it twice a month. Also, with the class at the library, people are able to come here and take advantage of our resources if they want to check out a book or video about line dancing," Gibbs said.
Gibbs first taught the steps of each dance and then added the music. He also used YouTube videos to help teach the steps and provided handouts with the steps spelled out in detail.
Line dances Gibbs taught attendees included, The Cupid Shuffle danced to "Cupid Shuffle" by Cupid, Dizzy danced to "Dizzy" by Scooter Lee, Gloria danced to "Gloria" performed by the Glee Cast and, of course, "The Electric Slide."
Gibbs cheered on his students, encouraging them all along.
"You've got this. Think positive and be optimistic," Gibbs told his students.
More like this from vindy.com