Quisenberry's 37 lead YSU to six wins in a row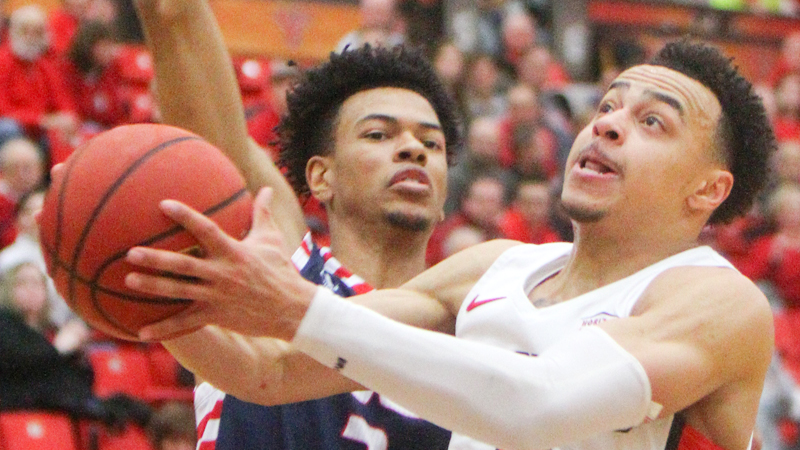 ---
By Brian Dzenis
YOUNGSTOWN
Even when Youngstown State's entire offense ground to a halt, Darius Quisenberry found a way to keep scoring.
The freshman scored a career-best 37 points — the most by a YSU freshman since Tim Jackson's 31 in 1988 — to lead the Penguins to an 81-73 win over Illinois-Chicago.
The Penguins (12-16, 8-7 Horizon League) survived 12 minutes of not making a single shot to win six games in a row for the first time since the 1997-98 season.
"It's a great milestone for my career here at YSU," Quisenberry said. "Personally, it keeps my spirits high, but for me and my team — we can't be satisfied — but it's a great accomplishment."
From the opening tip, Quisenberry was locked in, going 7 for 9 from the floor for a team-high 17 points in the first half. Devin Morgan followed suit by going 3 for 3 from 3-point range while scoring 15 points in the opening half. The team collectively was 8 for 12 from beyond the arc is it took a 43-38 halftime lead.
After the break, YSU's shooting froze. In the ensuing 12 minutes, the Penguins missed 13 shots in a row and could only get points at the free-throw line. Quisenberry had a team-best four points in that stretch. Morgan never scored again for the rest of the contest.
"We were all getting frustrated. The players, coaches — I knew I was," YSU coach Jerrod Calhoun said. "You have to give our guys credit and to hold that team to 73 points — they are a high-powered scoring machine."
UIC (14-13, 8-6) did little to take advantage of YSU's slump, building its lead only as high as six points as the Flames found themselves in foul trouble. UIC's leading scorer, Marcus Ottey, found himself with four fouls three minutes into the second half.
Jelani Simmons hit a floater with 8:30 left to play to break the scoring skid. Quisenberry traded free throws with Ottey before following up with a 3-pointer that tied the game at 58 and the Penguins rode the foul line to the finish.
Quisenberry made just three shots in the second half, but finished the game making 14 out of 16 free throws.
"I think free throws are huge. I'm trying to get to the line every game — it's free points and that's why they're called free throws — I work on them every day," Quisenberry said. "I sacrifice my body to get to the line, which I got to stop doing. I'm just trying to get to the line for easy points."
Defense made the difference in the final minute of the contest. UIC trailed by just three points with a minute left, but three missed 3-pointers, a turnover and free throws from Quisenberry, Donel Cathcart III and Naz Bohannon prevented the need for another last-second shot to win the game.
Sophomore guard Garrett Covington was held out of the game with a concussion. He could be available for Thursday's game against Northern Kentucky if he passes more tests, Calhoun said.
YSU snapped UIC's four-game winning streak and got its first win against the Flames under Calhoun. Godwin Boahen led the Flames with 20 points, Ottey scored 18 and Tarkus Ferguson had 14.
YSU had its highest recorded attendance of the season at 4,917. The next highest mark was 3,449 on Dec. 8, 2018 during an 88-77 loss to Western Michigan.
"It's huge and that's special for Youngstown. The girls are playing well. We're playing well. I think you're starting to see Youngstown turn into a basketball town," Quisenberry said. "Seeing those fans out there cheering and being happy is big for me. I came here to change the culture and I see it changing."
More like this from vindy.com