McDowell powers Struthers past Columbiana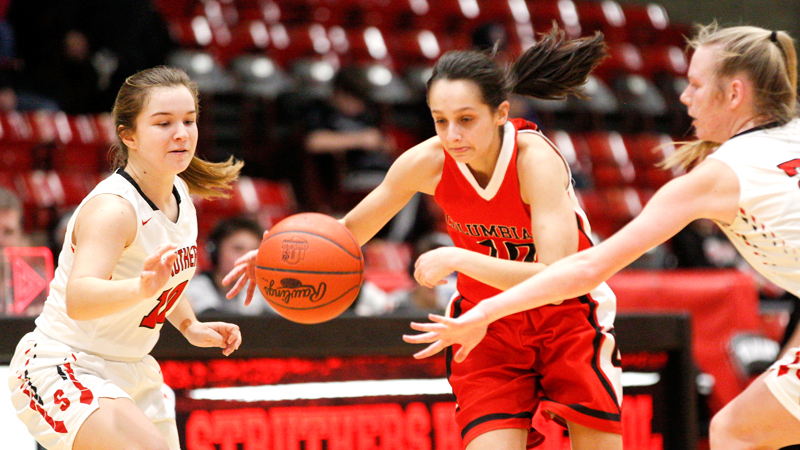 ---
Wildcats hold off visiting Clippers
By DAN HINER
Struthers
It was a special night for Struthers forward Trininty McDowell. After emotional Senior Night festivities, McDowell recorded a double-double in the Wildcats' 62-50 win over Columbiana at Struthers Fieldhouse on Wednesday.
The Struthers senior scored a game-high 23 points and grabbed 13 rebounds.
"[Senior Night] was a part of it," McDowell said. "I wanted to play for the team and it's a game. You have to focus and have hard work."
Teammates Sabrina Bartholomew and Trinity Farrar were also honored prior to the game. Struthers also gave the traditional bouquet to Columbiana seniors Kennedy Fullum and Tesse Liggett.
The Wildcats (18-4) led 44-40 at the beginning of the fourth quarter, but held the Clippers to 4-of-11-shooting from the field and forced nine turnovers in the final period.
Columbiana attempted a comeback, but McDowell blocked two shots in the final 1:20 to help maintain a single-digit lead.
"She's been a rim defender all four years here," Struthers head coach Bill Neider said.
Emma Elia made five 3-pointers and finished with 16 points while Renee Leonard had 10 points and four steals for the Wildcats.
The Clippers (17-5) were without starting guard Kayla Muslovski. The Columbiana star was placed in concussion protocol following the Clippers' 52-43 loss to Salem on Monday.
Columbiana head caoch Dave Crismon expects Muslovski to play in the Clippers' tournament opener on Feb. 23.
Fullum scored 13 points and grabbed seven rebounds for the Clippers and Grace Hammond scored 15 points.
"It's good for us to play on this floor," Crismon said. "A lot of kids had to step up, handle the ball a little bit more. Kayla handles it a lot [against] the ball pressure we get. This made some kids better tonight."
Fresh Faces
Both teams featured first-year coaches this season.
Neider took over for long-time Struthers head coach John Grandy. Crismon was hired after Columbiana and Ron Moschella parted ways following verbal abuse allegations.
The new coaches have different personalities than their predecessors. Grandy was quiet while Neider can be vocal. Crismon is positive while Moschella could be critical.
"It was definitely something I had to get used to," Fullum said. "I even remember telling coach Crismon that I needed him to yell at me in order for me to play better instead of telling me, 'It's OK' or 'Keep going.' "
Neider was a Struthers assistant under Grandy, so the players adjusted quickly.
"It was different because we didn't know what to expect," Bartholomew said. "Practices changed, drills we did changed. But we still had the same guy in our lives and we knew what we were getting from him."
Senior Scholarship
Shortly after being honored on senior night, Bartholomew received the Mahoning Valley Basketball Officials Association Jollis Welcher Scholarship. Bartholomew will study finance at Youngstown State next year and plans to pursue a law degree.
More like this from vindy.com