ValleyDeals365.com: Marino's 40 Years of Homemade Classics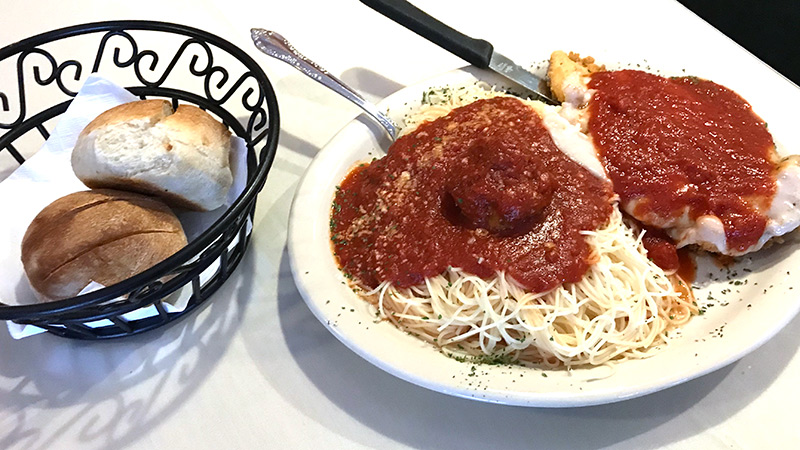 ---
By Corey Crisan
In partnership with 21 WFMJ-TV
Deal #1-Half off voucher
Marino's Italian Café
Limited-time deal: Purchase vouchers on ValleyDeals365.com
LOCATION: 5423 Mahoning Avenue, Austintown, OH 44515
HOURS: Sunday: 11 a.m. to 9 p.m.; Monday: 3:30 p.m. to 9 p.m.; Tuesday, Wednesday, Thursday: 11 a.m. to 10 p.m.; Friday and Saturday: 11 a.m. to 10 p.m.
MENU: Italian, soup, salad, pizza
INFO: Marinositaliancafe.com
VIDEO: Watch our video with Marino's Italian Cafe manager Dan Marino — Vindy.com/valleyfood
AUSTINTOWN
Gauging consistency can be done in a variety of ways. In 1979, "Rocky II" came out in theaters, and the Pittsburgh Steelers won their third Super Bowl.
In Austintown, in 1979, a restaurant opened and remains a staple today. Marino's Italian Cafe brings traditions with a personalized and homey menu of Italian classics and has done so for 40 years.
After Danny Marino lost his job when Youngstown Sheet & Tube Co. plant closed, he and his wife, Anna, who emigrated from Italy when she was a teenager, dove into the restaurant business. That business became a product of Anna's Italian roots, and in turn, her family's recipes.
Valley Deals 365 - Marino's Italian Cafe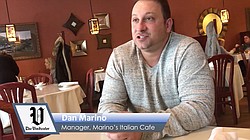 Video
An interview with Marino's Manager Dan Marino. This video feature is from Valley Deals 365 a partnership between The Vindicator and 21 WFMJ-TV. Visit Valleydeals365.com to view this and other deals.
"Everybody still likes the homemade [food]," Marino's owner, Anna Marino said. "When they come here, they think, 'Oh! My grandma! It reminds me of my grandma!'"
Just like grandma, Marino's nails down the classic dishes such as chicken and eggplant parmesan, lasagna and alfredo to name a few. All are influenced by timeless recipes the Marino family holds close to themselves.
All sauces are made from scratch, and Marino's has no plans to change what has been working for four decades. Not to mention, the trademark of the restaurant: the dinner rolls. Bread is baked fresh each morning by Anna, and they are complimentary alongside their traditional dishes.
If the food brings you to a comfort level, so will the atmosphere at Marino's. Its dining room is not a giant and spacious layout, but rather a comfortable and intimate setting that makes you feel you are at home eating dinner at your table with your family. Homemade food and a welcoming environment make Marino's an easy call for anyone looking to have a family dinner outside of the home.
Deal #2 - Half off voucher
Candella Micro-distillery
Limited-time deal: Purchase vouchers on ValleyDeals365.com
Location: 4440 Market St., Boardman
"There's a lot of nice Italian restaurants in the [Mahoning] Valley that have the same stories, same traditions," Marino's manager and Anna's son, Dan Marino said. "We're proud to be one of the oldest. We don't try to be different [from them]. We just try to be us."
'Us' is working, and Marino's does not seek to compete. It seeks to remain true to itself and the traditions that have kept it successful for 40 years.
The most respectable quality is they are a tightly knit family that is willing to share its history within its recipes. While the ingredients in those recipes are kept a secret to those only within the family and to the family's intimate choosing, those that are deeply interested will have to visit Marino's to taste it and figure it out for themselves.
"Some people are always going to go to [the chain restaurants]," Dan Marino said. "And that's fine, but to come here, you're going to get more hands-on, homemade food."
Marino's also features a buffet with soup, bread, salad and pasta during lunch and dinner hours. Lunch buffet runs from 11 a.m. to 2:30 p.m. Tuesday through Friday. Dinner buffet runs from 4:30 until 8 p.m. Saturdays.
More like this from vindy.com