Pavlik says he's serious about return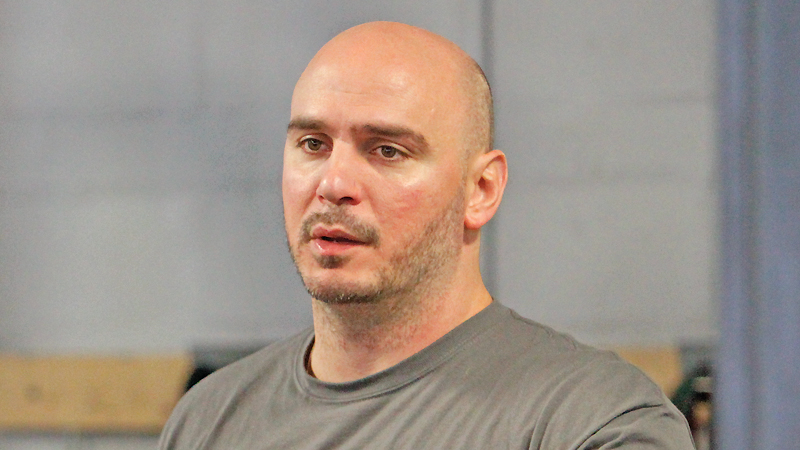 ---
By GREG GULAS
sports@vindy.com
NORTH LIMA
When Kelly Pavlik hinted at a possible comeback attempt last month on the Joe Rogan Show, little did he know the firestorm that he would cause with its nearly 12.5 million followers.
Speaking to the Curbstone Coaches during Monday's weekly meeting at Avion banquet center, Pavlik reiterated that he is still contemplating a return to the ring and while the comeback is more than just talk, he's still a few months away from a serious talk with his family and advisors about a ring return.
Either way, he'll announce his decision on his podcast, which is broadcast to more than 20,000 followers at 7 p.m. each Sunday night from his MiGym Fitness Center in Columbiana.
"No matter what happens, I'm damned if I do and damned if I don't," Pavlik said. "I'm down to about 238 pounds and if I do get back into the ring, it will be as a cruiserweight. I train everyday but still need to get down to 200 pounds.
"I work out with my powerlifting team and trainer Lonnie Atkins. Everything is going great. I only do powerlifting two days a week, trying to incorporate that with functional training and aerobic classes to keep my flexibility," he added. "I do something every day, either cardio, yoga or bag and box work. I box three days a week, but the main thing is that I want to stretch out and keep the body loose."
Pavlik does want to dispel several rumors circulating about his potential return.
"I'm not doing it for the money or the belts. I have enough," he stated. "If I do this it's for myself."
He'll head to California next month for business and may train with Robert Garcia. He hasn't ruled out Youngstown's Jack Lowe as his trainer either — or a mix of Garcia and Lowe.
With Pavlik, his return will be anything but a long-term commitment.
"I've lost 12 pounds and haven't even started eating right yet," he said. "This isn't for another career. I'll just go fight by fight. I might go out for a run or spar and say that's it, this isn't for me. It's something to do and see if, in fact, I can do it."
Despite no advertising and minimal promotion, Pavlik's podcast has attracted some national attention with Sirius radio very serious about adding his podcast to its line-up and schedule.
"Everywhere we go people are talking about the podcast, so we know we are being heard," Pavlik said. "I'll be covering Mikey Garcia's March 16 fight for my podcast and hope to visit Billy Lyell in Florida next month as well. I'm constantly busy and I love it."
In addition to his MiGym Fitness Center, which has more than 350 members, Pavlik will team with coach Jess Leone when they present Kelly Pavlik's Ghost Sports Challenge at the Salem Community Center CenterPlex on May 18.
"It's an all-sports challenge for boys in grades 7-12 and it's like a combine for athletes," Pavlik said. "We'll time them as they participate in five combine events. The sixth one, Youth 1 ACT, will combine all events by weight and size and then rate them throughout the state and nationally with their performance. We want this to be a yearly event and will look to add a girl's challenge next year."
The five combine events include vertical jump, broad jump, 40-yard dash, 5-10-5 side to side dash and a cone drill.
Next week, YSU President Jim Tressel will serve as guest speaker.
More like this from vindy.com