Officials push to build up fitness center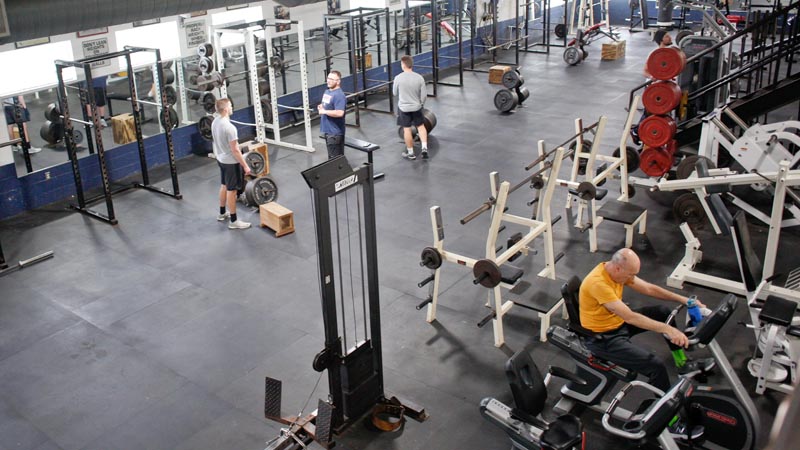 ---
By Justin Dennis
jdennis@vindy.com
AUSTINTOWN
As membership at the Austintown Community Fitness Center remains only a fraction of what it was in 2012, the Austintown Local Schools board is seeking outside support to revitalize the 20-year-old facility and maybe win back patronage lured by newer commercial fitness centers in the area.
The center, adjacent to Austintown Fitch High School and home to the district's sports programs, made $13,095 from its $90 annual public membership fees in fiscal year 2018, down from $39,398 in 2012. In 2017, it hit a five-year low of $12,370.
During a late January meeting, district Superintendent Vince Colaluca said the center has seen losing membership since Planet Fitness opened its Mahoning Avenue center in 2016. Membership revenues dropped sharply in the following two years, according to figures provided by district Treasurer Ryan Ghizzoni.
"If you have disposable income, you pay to go train somewhere else," board President Don Sherwood said during that meeting.
Jim Penk, the district's athletic director, estimated fewer than 100 student athletes take advantage of the center on their own time, even though they aren't required to pay the center's annual fee.
Much of the equipment also needs replaced, said Ellen Kosa, the district's 30-year athletic department secretary, including some pieces that date to the center's January 1999 opening.
Before the holidays, the district had approved new purchases, but news of the General Motors Lordstown plant idling put those plans on hold, she said.
Some high-end equipment models can range from $3,100 to $6,500, said Penk. The district has reconditioned equipment or bought used pieces at auction but hasn't made any new purchases in the last five years, he said.
The center was built on a $200,000 donation and money from the township, officials said during the meeting. Now the district could be turning back to the township to help revitalize the center, Colaluca said.
The district also pays for the property's utilities and maintenance.
"For the most part, the place is not self-contained by itself, like you'd hope it would be," Penk said.
Township residents age 60 and older pay $50 annually, Kosa said. Non-township residents pay double the normal fees, she said.
Regardless of the Austintown center's competitive odds, regular patrons said they wouldn't go anywhere else.
Sixty-year-old Rob Luchansky said the center's low membership fee is "what keeps you coming back." Other gyms may cost "three times" what Austintown residents pay at the center, he said.
"The equipment is great. I mean, it's getting a little outdated. … For the most part, it's good.
"Without new stuff, you're not going to get the younger kids," he said, referring to "trendy" workout regimens such as CrossFit.
But though 19-year-old former district baseball player John Johnson graduated last year, he still trains at the Austintown center.
"It's just so close. It's just nice and convenient," he said, though he added many of his peers work out elsewhere.
"They probably think that it's better but you have just about every machine that you could probably get anywhere in here. I don't know why they would choose to go anywhere else but here."
More like this from vindy.com