Market Goes to The Dogs (& Cats)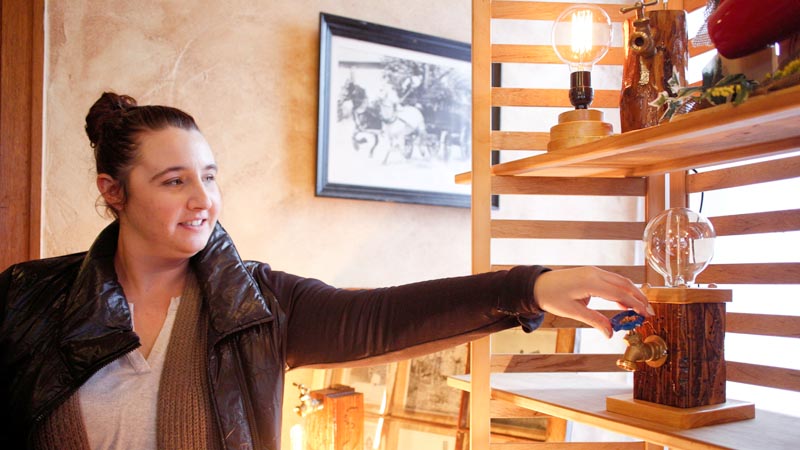 ---
By WILLIAM K. ALCORN
alcorn@vindy.com
YOUNGSTOWN
Sunday's Rust Belt Winter Market was an all-around success, drawing more than 1,200 people between 11 a.m. and 5 p.m. to the B&O Station.
There, nearly 40 local artists showcased their creations ranging from woodwork items, decor, jewelry, local honey, sweet treats, crochet items, wall art and more.
More than pleased with the large turnout of potential customers was Lauren Potts-Novotak, administrator of the Rust Belt Winter Market, who said proceeds from the event benefit Buster's Brigade, a new 501(c) 3 nonprofit organization dedicated to helping dogs and cats in Mahoning County.
Buster's Brigade works with Second Harvest Food Bank of the Mahoning Valley to assist families in need with pet food and with the Youngstown Pre-Veterinary Society to assist in its low-cost clinics, said Potts-Novotak, president of Buster's Brigade.
The organization's rescue coordinator, Trish Collins, said more than a dozen animals have been placed in new homes since the group's inception last November.
"We thought it would be great if we generated $5,000 during our first year, but we have already exceeded that," said Donna Sekman, treasurer of Buster's Brigade, who has made contact with numerous animal-rescue organizations so that putting the rescued animals in overcrowded kennels can be avoided when possible.
"The goal is to help keep animals in their homes or get them into new ones," said Potts-Novotak, who said Buster's Brigade is "near and dear to my heart."
The artists who made the Winter Market a success were also impressed by the turnout.
Jerry and Cindy Grgurich of Hermitage, Pa., enjoying their first visit to the Winter Market, brought 28 of his novelty lamps, call Rustic Lamps on their Facebook page, and by 3:30 p.m. had only six lamps left.
They also brought samples of the old window frames they use to make collages, and some of Cindy's craft work. She sews purses and makes quilts, among other products.
In their regular place at the Winter Market, in a corner on the second floor of the B&O, was Dana's Fudge and Candy, made by Dana Dunnavant. Her husband, Dave, said business was brisk and said Dana has been making hand-crafted candy for weddings, showers and craft shows since 1993.
Mary Ann O'Leary of Youngstown said she got tired of being unable to find jewelry she liked and decided to make her own.
"My friends liked what I made, so I made a business of it," said O'Leary.
Among the materials she uses to make bracelets are copper pipe and wire.
Carl Phillips of New Springfield, a mechanical engineer, and Mike Ferraro Jr. of Wampum, Pa., a millwright, got into the craft show business after they got tired of losing their jobs because of plant shutdowns.
Ferraro said his wife's sister goes to and promotes huge craft shows and his wife came home from one with some jewelry.
"I decided I would make some jewelry for my wife, and the business kind of grew," he said.
Catching the essence of craft shows, Phillips said they have a blast interacting with their customers. "They appreciate our work and pay for it with a smile," he said.
More like this from vindy.com