Liz Strohecker represents her country in a different uniform — a gray quarter zip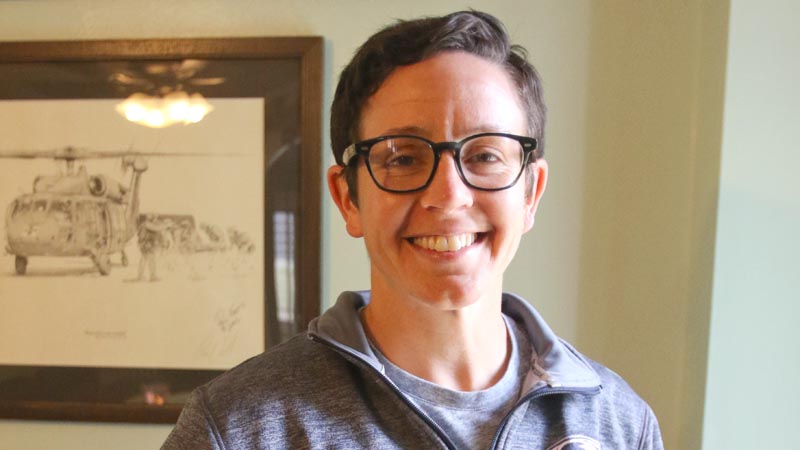 ---
By Dan Hiner
dhiner@vindy.com
East Palestine
Liz Strohecker comes from a military family. In her parents' house, a photo of her grandfather's basic training class and her brother in his uniform sit in the dinning room.
Her grandfather, brother and a cousin all served in the Army. Strohecker represents her country in a different uniform — a gray quarter zip.
The 2003 East Palestine graduate is the manager of the USA women's rugby sevens team. She is in charge of the team's day-to-day responsibilities — travel coordination, tour planning and helping the players develop personal life skills.
"It's pretty cool," said Strohecker, when asked about her families service and her role with the national team. "I guess I never really thought of it like that."
The sevens compete in 7-on-7 play as opposed to the traditional 15-on-15 format.
The national team completed the first half of their season and took a short break, allowing Strohecker to return home. United States won a Bronze medal at the same HSBC Sydney Sevens tournament. Team USA is ranked No. 2 in the world with three tournaments remaining in their Olympic qualifying year.
Strohecker, who received a degree in biology, was first introduced to rugby while attending the University of Connecticut. She saw a sign providing details for potential recruits posted during her chemistry class her freshman year.
"I played sports all through high school," Strohecker said. "But obviously going to a school that big, I wasn't going to play any DI sports up there. I was kinda looking for something to do that was competitive, a little bit more so than intramurals."
After playing four years for the Huskies, Strohecker played for club teams in Virginia and San Diego. She retired in 2014 to work for a biotechnology lab, but stayed on a coach.
Strohecker was eventually laid off from her lab, leaving her without a job.
She didn't know much about team USA. Her plan was to play in college and use her degree. But after getting laid off, she moved to San Diego and eventually was invited to join the national team's staff.
A friend was hired as the team's High Performance Director and invited Strohecker to coach at one of the team's camps in January 2017.
After talking to those around her, she applied for a part-time position later in the year and was recently promoted to full time.
"When I moved out to San Diego, I moved out there without really a plan," Strohecker said. "No job. No idea what I was going to do.
"I found the rugby team. They found me a job, they found me a place to stay, they found me a car. And I still, then, didn't think of it as something I would be doing career wise."
Strohecker and the USA men's team manager took a trip to Tokyo in preparation for the 2020 Olympics. They met with the United States Olympic Committee and representatives from the nation's other sports.
"We met with the people from the U.S. Olympic Committee in Tokyo and went around and looked at where the athletes' village is going to be, which isn't close to being finished yet," Strohecker said. "It's still pretty cool to see where everything is going to take place.
"Thinking about being there is one of the things that helps drive my decision to take the position, in addition to just loving rugby in general. Being able to participate in something like that ... we went to World Cup last year, but the Olympics is going to be totally different."
Team USA will play in the HSBC Kitakyushu Sevens in Japan on April 20-21. All matches are broadcast live on facebook.com/worldrugby7s.
More like this from vindy.com