Fickle mercury makes work for road crews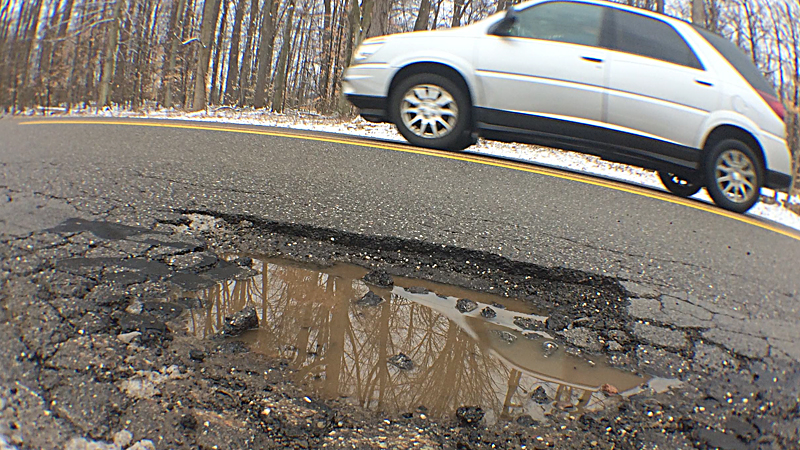 ---
Staff report
YOUNGSTOWN
Spring won't be here until March 20, but those pesky potholes are here now, they are growing and will continue to do so, local officials said.
Mahoning County Engineer Pat Ginnetti said pothole patching is a "year-round effort."
"If the crew's not in a plow truck, they're in a patch truck," he said Monday. "Oftentimes we have plow trucks and patch crews working simultaneously."
In case you forgot, here's how these craters are created.
When the mercury dips below freezing, water settled in cracks or holes in the road expands when it freezes, making roads more susceptible to impact from traffic.
When temperatures suddenly swing back upward, that water contracts when it thaws, causing the road to shift. Rains caused by those temperature shifts aren't helping, Ginnetti said.
Ginnetti said high-volume roads deteriorate faster as they see much more impact.
"There's potholes that weren't there yesterday," Ginnetti said. "It's become, unfortunately, a year-round effort. We're not able to pave as much as we would like, so we're spending more time patching potholes. It's a downward spiral that's going to continue to happen unless funding changes somehow."
The county makes its own cold-mix material to patch the roads, which keeps costs down.
Motorists whose vehicles are damaged by potholes along county-owned roads can file an insurance claim to the county engineer's office, but there's no guarantee it'll be paid – not many are, Ginnetti admitted.
County legal experts must first review the claim to determine whether the county is liable for the damage, he said.
As he does every year, Ginnetti cautioned motorists to drive slower in the winter months, and leave more distance between vehicles ahead of them. It's harder to spot or determine the depth of potholes that have filled with rainwater, he added.
Chuck Shasho, Youngstown's deputy director of public works, said the city hasn't finalized its resurfacing budget yet, but they are planning to carry through a $1.1 million to $1.2 million-dollar local resurfacing initiative beginning in June.
City crews will be applying cold patch to potholes until the weather is warm enough to begin resurfacing work.
"Right now, if the crews aren't doing ice management, they're out filling holes," Shasho said.
The Warren Operations Department and Trumbull County Engineer's Office both say the recent swing from freezing to thawing and the back again have not substantially changed their approach to filling potholes.
Warren Safety-Service Director Enzo Cantalamessa said Monday the city budgets in advance for an average year of snow plowing, salt usage and road repairs, and this year is still within the average range because the early part of the winter was someone mild.
He said it's "wasteful" to put cold patch or hot mix on roads to repair damage to roads during the winter because of the way plowing removes those materials.
Except in the worst situations, potholes usually only get slag, sometimes mixed with dirt or sand, he said.
The potholes in Warren are "typical of this time of year," despite the wild swing from below zero to 60 above that occurred recently, Cantalamessa said.
Tom Klejka, highway superintendent for county Engineer Randy Smith, said he also considers pothole problems on roads within the jurisdiction of the engineer's office to be "about normal" this year.
Use of salt and other materials for the road and the overtime numbers are also about normal, he said.
"If we need to, we are prepared to step up with extra shifts to catch up," Klejka said.
More like this from vindy.com