Father, son team still making models after 35 years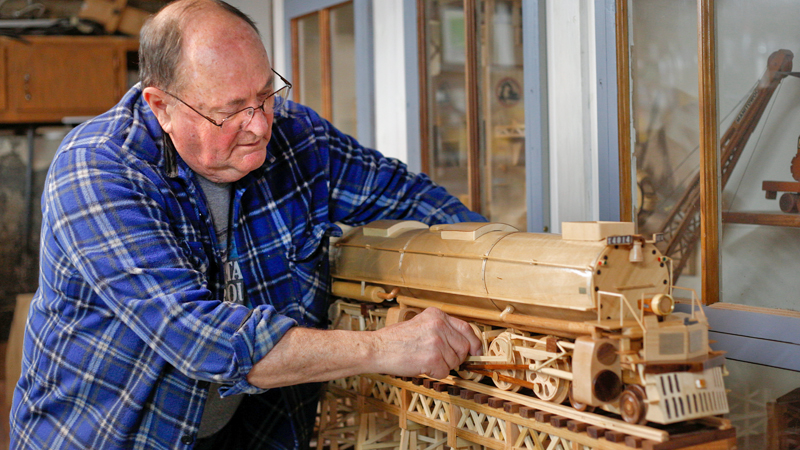 ---
By GRAIG GRAZIOSI
ggraziosi@vindy.com
NEW MIDDLETOWN
The wooden fire truck on the window sill in Struthers Fire Chief William Simcox Jr.'s office is unpainted, but is not lacking in detail.
The hood flips up, revealing an intricately carved engine. The wheels spin, the ladder extends and retracts.
To Simcox Jr., the two-foot replica is more than just a trinket bearing the familiar symbols of his profession. It is an enduring reminder of time spent with his father, crafting and shaping wooden models together for more than 35 years.

William Simcox Sr., who lives in New Middletown, has built 25 models since he began woodworking.
His most recent work — a seven-foot replica of a coal hauling Union Pacific train nicknamed "The Big Boy," is detailed to the point of including the conductor's chair, a cable for the steam whistle and working car couplers. It took him 10 months to complete.
He gives most of the models away, and the Big Boy will go to his son.

"My enjoyment comes from the process of actually building these. I relish in the details," Simcox Sr. said.
Rather than building from plans or schematics, Simcox Sr. builds everything from publicly available photos. He determines scale by looking at photos of his subjects that contain humans and comparing their sizes.

Simcox Sr. has only ever painted one model — which he'll never do again, as he felt it covered up its detail — and all he uses to bind the pieces is Elmer's wood glue. He's even started building his own tools for use on the models' finer details.
Though trains are his favorite to build — two of his trains are on display in his house, and a third is on display at Baird Brothers, where he gets the majority of his wood — he's also built a windmill, a four-foot tall Alaskan gold dredge and a Rube Goldberg-like marble tower for his grandchildren.
Family has been a central motivator for Simcox Sr.'s hobby, which began as a way to deal with the loss of his father.
"I taught myself when I was 50," Simcox Sr. said. "I guess it was my version of therapy."
Eventually, his work evolved from a way to cope with loss into a way to enjoy time with his son.
"My dad was and still is my best friend," Simcox Jr. said. "We did everything together. We built models, we built go-karts, we did everything."
In 1985, Simcox Jr. built his own wood model of an excavator. Simcox Sr. said his son has the skills to create the same quality models he does.
"I've only made the one, but in the future I can see myself making more," Simcox Jr said.
Simcox Sr. just finished The Big Boy earlier this month, so he has yet to begin a new model, but if the last 35 years are any indication, it won't be long before he's back in the wood shop.

More like this from vindy.com