YSU routs Green Bay to win four straight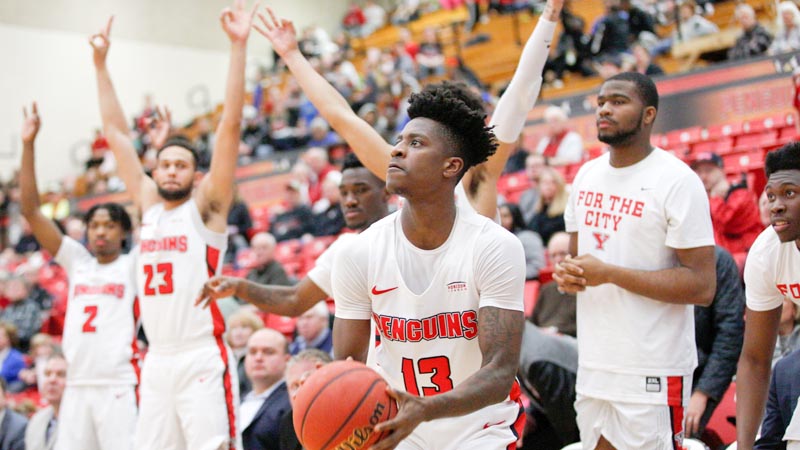 ---
YSU routs Green Bay, continues win streak
By Brian Dzenis
YOUNGSTOWN
The Youngstown State men's basketball team's current run of form had been a fraught affair heading into Saturday night.
The Penguins won the previous three games by a combined four points. The next game was a stress-free affair. YSU cruised after a hot first half to rout Green Bay, 96-77. Seeing reserves come out with minutes left to play in a victory well in hand was a new sight in the Beeghly Center.
"You see guys smiling. With Youngstown, it's been losing and losing and it's just fun to see the crowd smiling," guard Darius Quisenberry said. "It's fun see some of the guys on the bench get in, that's what Youngstown wants to see. We don't want to see frowning faces walking out of the gym. We want them happy and wanting to come back."
With the win, YSU (10-16, 6-7 Horizon League) is on its longest winning streak under head second-year head coach Jerrod Calhoun. The last time the Penguins went on a four-game winning streak was during the 2015-16 season when Jerry Slocum was running the team. The last time YSU won four straight in Horizon League play was during 2012-13.
"I just think it's a testament to the kids. They're really buying in. They're really coming together and it's fun to see," Calhoun said. "I think the fans have been awesome the last two games. It's just all been coming together and when kids buy in to what you're telling them, they really like each other."
YSU is now tied with Detroit Mercy for sixth place in the League and are just a game-and-a-half back of having a home game come tournament time. The top four teams in the Horizon League get to play a conference tournament game at home before the semifinals and finals at Little Caesar's Arena in Detroit. That scenario seemed hard to imagine when the Penguins lost to last-place Cleveland State just before the start of the current winning streak.
"That was the turning point for us. We went from the lowest of lows to the highest of highs by beating Oakland, who is second in the league right now," Quisenberry said. "After that, it was like, 'If we can beat Oakland, why not win out the rest of the season?' "
Quisenberry led the Penguins with 22 points as one of five Penguins in double figures. Garrett Covington finished with 18 and Noe Anabir, Devin Morgan and Jelani Simmons each scored 10.
Covington built off his buzzer-beater Thursday night to beat Milwaukee with a 16-point first half. The Penguins shot 64 percent while making 21 of their final 27 shots take a 51-33 halftime lead. Those 51 points were the second-most scored by the Penguins in a half this season. The only blemish in that half was falling behind 8-0 in the opening minute.
Calhoun didn't agree with an assessment that the first half was the best he's seen out of his team, preferring the Penguins' 45-point first half in an 80-74 loss to Wright State on Jan. 17.
"Today was pretty good, too. The ball was moving. We were getting downhill. Multiple guys were touching the ball," Calhoun said. "We've got a chance. We've just have to keep getting better."
Warren JFK grad Justin Bofenkamp saw two minutes of action near the end of the game. He collected an assist on a Geoff Hamperian bucket and put up one shot.
ShanQuan Hemphill and Sandy Cohen III each scored a team-high 14 points for Green Bay (12-13, 6-6). JayQuan McCloud and T.J. Pipes scored 11 and 10 points, respectively.
More like this from vindy.com