Kim Welch wins 1st place - Love Story contest winners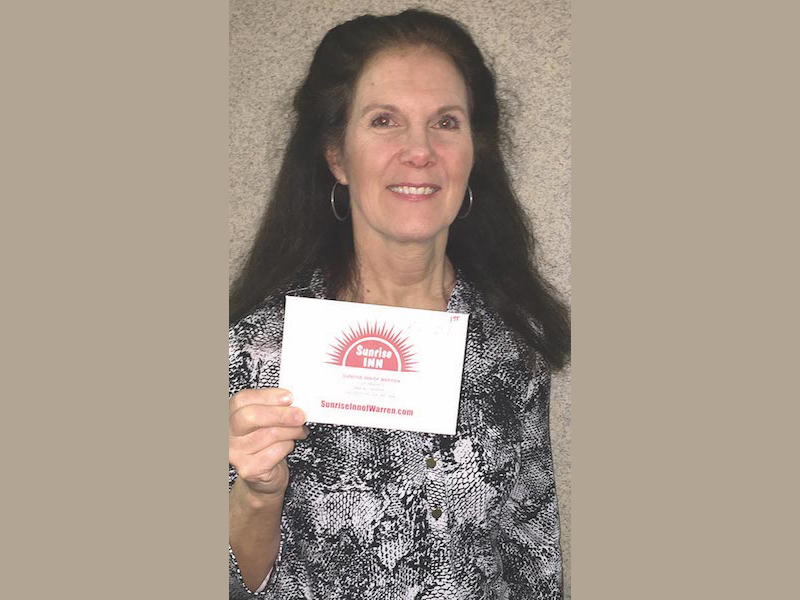 ---
Kim Welch won first place in our contest. She received a $100 gift certificate to Sunrise Inn.
Of the entries submitted for our annual Love Story Writing Contest, here is the first-place winning entry to our fictitious love story, "Strangers in the Knight." Click on the links in this story to read the second- and third-place winning entries.
Each was written in 750 words or less and received by the deadline.
The stories are in their original format.
Meredith Deichler - 2nd place winner in Vindicator Love Story contest
Kate Bray - 3rd place winner in Vindicator Love Story contest
First, here is the beginning of the love story:
As their horses thundered down the Renaissance fair jousting field, Sir Hal considered his options.
Should he aim high on the breastplate, where his lance might strike the shield and be deflected harmlessly? Should he aim low, where he might strike below the waist and be disqualified? Should he deliberately strike the shield, so that his opponent would have more difficulty lifting it on the next pass?
Hal had a split-second to decide. The reigning champ opted to keep it simple. He aimed right for the center of the breastplate.
CRASH!!!
Hal barely managed to deflect the incoming lance. But his own lance struck his opponent square in the chest and shattered, the foe taking all of the impact with silent, motionless stoicism.
Hal had never seen someone so strong, so confident in the saddle. He knew that there was no way he could defeat this foe, but he had to try.
But on his third pass, Hal was unseated. Victory would wait for another year.
Hal lay gasping on the ground as his foe wheeled the enormous horse around toward Hal, dismounted, and graciously offered him a hand up. Hal accepted, stood, and faced his opponent.
Hal offered his hand, conceding defeat. The crowd roared as these two plate-clad titans clasped hands like the excellent sportsmen they were.
Hal shouted above the din, "Might I look upon the face of so mighty a knight as to unseat the reigning champion?"
His opponent said nothing, but simply offered the audience a wave.
Hal again asked, "Please, might I have the honor of looking thee in thine eye?"
Once again, his foe said nothing.
"Thrice I ask and done, Sir Knight –"
"Dame!" the knight replied.
I beg your pardon?"
"My title, good sir, is 'Dame,'" the knight replied. With that, she deftly removed her helmet and arming cap, allowing her golden locks to fall. Offering Hal a dazzling smile under stunning gray eyes, she continued, "Dame Charlotte, at your service."
Entry
Still unable to believe he'd been unseated, and by a woman at that, Hal said, "Dame Charlotte, it's an honor to make your acquaintance. But I must know what brings you to this perilous field of battle? It's certainly not the sport of fair maidens such as yourself. Would you allow me to reward your victory with an early dinner?"
Charlotte didn't hesitate. "Oh yes, kind knight, it would be a pleasure; but please, allow me to prepare the meal."
Hal explained to Charlotte that he had to be home by 4:30 to get his son. She didn't skip a beat when she quickly replied, "Bring him with you! I'll make my famous spaghetti! Here's my address; see you at 6!"
And with that, she turned and hurried away before he could find an excuse and refuse.
Hal had originally begun jousting to burn off pent-up anger, grief and loneliness. After being victorious the previous year, he had continued to work out in his free time, between his job and raising his son. He found sleep to be of little use; it led to dreams. Sometimes they were happy ones with his family whole again; he, his wife, and their little boy, Noah. More often than not, though, they were nightmares, replaying the accident that left him a widower with a young son who had not spoken in two years.
Charlotte, "Lotte" for short, had been trying to make contact with Hal for a long time. She had left numerous voicemails and text messages, but he refused to respond. This unconventional scheme had been her last resort, short of getting arrested for stalking. Months of preparation – buying a suit of armor, shield and lances that fit her; weeks of grueling practice; days of pain from being battered by her employees who, after a while, became worthy opponents – all for the sake of this one meeting!
But now, she had his undivided attention, and she prayed it had all been worth it!
Charlotte owned "Lotte Love," a rehabilitation facility that catered to children who had experienced emotional trauma. She and her team used therapy horses to great success. She had received information from a school counselor about a little boy, Noah, who wouldn't talk. He seemed to understand what was being said, and all tests showed no physical impairment. He had been talking up until the day his mother was killed. His father had tried all available traditional methods of treatment, with no improvement. So when Hal was contacted by Charlotte about this new form of therapy, he refused, unwilling to believe it could help.
He had been disappointed so many times, and with every failure he felt his son slip deeper into himself. He just couldn't let that happen again.
Charlotte worried impatiently. Would he come? Would he bring Noah? Would he leave when he found out that she really wanted him to check out her barn and see for himself the remarkable results that could be made when she put Noah on the horse?
Before they left home, Hal explained to Noah that they were going to have dinner with a nice lady who liked horses.
Charlotte's house felt welcoming, warm and comfortable, and Hal soon found that she was also an excellent cook! While they ate, they talked about her horses. Charlotte seemed untroubled when Noah didn't respond.
Finally, she asked if they would like to go out to the barn to see them. Hal was more than a little curious, after witnessing her fearlessness on the jousting field earlier, so he took Noah's hand and they followed.
Charlotte turned on the lights to the training area and calmly and methodically saddled one of the smaller horses. Noah looked wary but unafraid as she walked the horse closer to introduce him. "This is Jax. Would you like to ride him?" she asked.
Noah nodded, so she gently picked him up, set him on Jax' back and handed the reins to Hal.
As Hal slowly began walking the horse and boy around the field, for the first time in two years, Noah giggled!
Watching them, Charlotte's heart swelled with joy and tears streamed down her face.
Then it hit him! This was "Lotte," the persistent therapist he had been avoiding for so long! Thank God she refused to give up! She had just won her second battle of the day!
Their journey toward love began as together they walked, round and round the track.
Second place
Meredith Deichler
Prize: $50 gift certificate to Sunrise Inn
Third place
Kate Bray
Prize: $25 gift certificate to Sunrise Inn
To read the second and third-place entries, go to Vindy.com and scroll to the Featured News section.
More like this from vindy.com