HOERIG SENTENCING | UPDATE | Claudia gets 28 years for murdering husband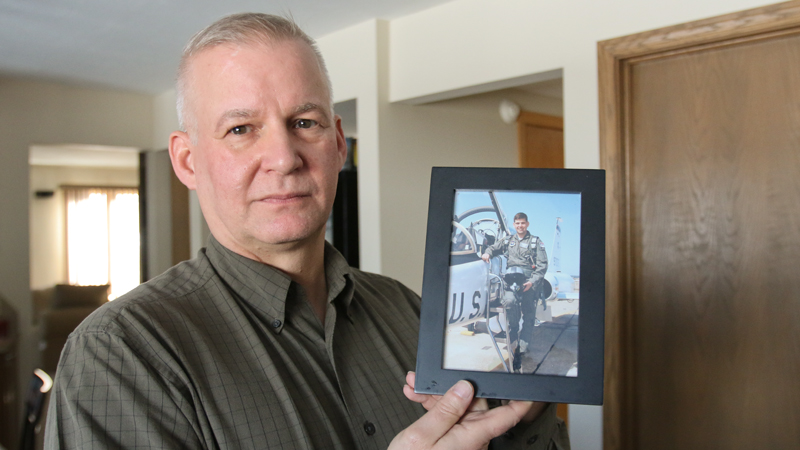 ---
WARREN
Claudia Hoerig was sentenced today to life in prison with parole eligibility after 28 years for the 2007 killing of her husband, Maj. Karl Hoerig, in their Newton Falls home.
Judge Andrew Logan heard victim impact statements from the family of Karl Hoerig, who was shot to death on basement steps.
Karl's brother Paul said the 10 year, 10-month wait for justice has been "exceptionally brutal."
He asked the court to consider the "premeditated, senseless, brutal murder of my brother" and Claudia's flight afterward to a foreign country.
He supports the prosecutor's sentencing recommendation. "Karl was a man of honor and he would have wanted us to honor this agreement."
Eva Hoerig-Snowden, Karl's daughter, then spoke to Judge Logan. "I want to talk about my beautiful kids he never met," she said.
Everything Claudia said during the case is "ridiculous," she said. "My dad was the greatest, most wonderful, best ever shoulda-won-a-trophy dad."
The family supports the sentencing arrangements Prosecutor Dennis Watkins made with Brazilian authorities to bring her back to the United States for trial.
Judge Logan, addressing Claudia, said she always evaded taking sole responsibility for her action. "You never showed actual remorse for your actions. You attempted to deflect the blame at each and every turn." In fact, the judge said, she tried to further her own fame.
"Your actions clearly demonstrated prior calculation and design," Judge Logan continued. The court has considered these factors, he said.
A full gallery attended the sentencing, as well as about seven newspapers and television stations.
Also attending are four members of American Legion Post 700 in Howland. The group members attended one day of the trial and also posted themselves on a sidewalk near Courthouse Square holding signs supporting Karl Hoerig, the victim of Claudia Hoerig's 2007 aggravated murder in their Newton Falls home.
Post 700 chaplain David Luther said their presence was not meant to be "anti-Claudia" but it was meant to be "pro-Karl." "We wanted to represent Karl as being comrades in arms with him as he fights his final battle."
Claudia Hoerig gave jurors and the public nearly six hours of explanations during her trial last month for why she shot her husband to death in 2007.
Today a different was told — remarks about the type of man Karl Hoerig was to his children and friends.
During this morning's sentencing, Claudia chose not to speak, saying she has been misquoted by the news media. her lawyers said a statement will be provided later.
But the "victims" — the people who cared about Karl Hoerig — were allowed to speak to Judge Logan to talk about how Claudia's crimes impacted them.
No one from Karl's family testified at the trial. Instead, the testimony came from gun-shop salesmen, crime-scene analysts, a forensic pathologist, a crime-lab tech, detectives.
Karl's family faithfully attended the nine-day trial — his father, mother, brothers, son, daughter, ex-wife, friends. They were never disruptive. In fact, it took minutes after Claudia's verdict was read before any of Karl's family members showed much reaction. A few quietly hugged, but their reactions were held in check.
However, a juror who spoke to reporters after the 12-member panel found her guilty of aggravated murder said he was aware of Karl's family.
"It was heartbreaking for me watching the family sitting here and watching them cry," the juror said of their reaction to Claudia's testimony.
In it, Claudia alleged that Karl exhibited numerous strange behaviors. There was scant evidence corroborating the allegations, even though Claudia said she wore a recording device around her wrist throughout her marrige to Karl.
The juror said he didn't believe Claudia's testimony, even saying it was "making me mad."
U.S. Rep. Tim Ryan of Howland, D-13th, who was active in the Hoerig case, today issued this statement:
"Claudia Hoerig has finally been brought to justice. I hope today's sentencing provides the Hoerig family the closure they so deeply deserve. The past 10 years have not been easy on them, but they continued to stay strong and had faith in each other and our justice system. Today could not have been possible without the hard work and dedication of Trumbull County Prosecutor Dennis Watkins and his team. And thank you to former Congressman John Boccieri for his tireless work throughout the past decade. It's through the effort of every person involved in this case that we were able to get to this end result. Although this chapter comes to a close, we will never forget Karl Hoerig and the impact he has had on our community."
More like this from vindy.com