Pelini brothers together again with Penguins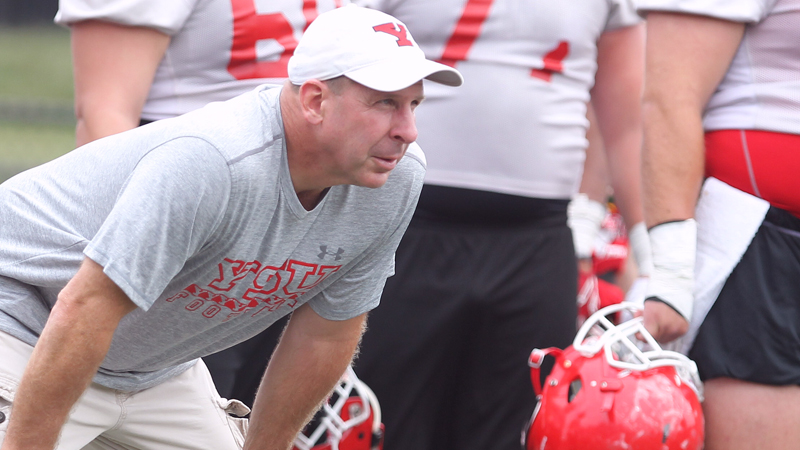 ---
Carl's role is still
being sorted out
By Brian Dzenis
YOUNGSTOWN
While signatures from thousands of student athletes across the country were being applied to National Letters of Intent on Wednesday, Youngstown State is still missing a signature from football coach Bo Pelini.
With his four-year deal set to expire on Feb. 28, Pelini remains committed to operating at his own pace and to being a steadfast critic of National Signing Day.
"I never quite understand signing day, somebody should explain to me what it's all about. You make a commitment, make a commitment. Isn't that what life is? Live up to your word," Pelini said. "We all want to wear hats — I thought about doing the hat thing today."
In his first press conference since the end of the 2018 football season, Pelini said he will return as the Penguins' coach. His older brother Carl is also returning to the Penguins after a one-year stint with Bowling Green.
"I have not signed a deal yet. I've been so busy recruiting — it's going to happen. I'll get around to it," Pelini said. "[YSU athletic director Ron Strollo] and I have talked and we'll get it done."
Pelini, a Cardinal Mooney graduate, is 27-22 with YSU since being forced out of Nebraska after the 2014 season. He is coming off a 4-7 season.
"I had some opportunities that were presented to me this year, but it's just not the right thing. I'm where I want to be right now. I'm with who I want to be with and you never say never," Pelini said. "I've always approached my career that I do the best job that I can in the job that I'm in. I don't look for the next job, but you never want to paint yourself in a corner and say, 'This is what's down the road,' because that would be a lie.
"Maybe there's something out there that interests me, but I'm not actively looking."
The retirement of special teams coordinator Ron Stoops opened the door for Carl to return, Bo said. His title is still being determined, but he will not be the team's defensive coordinator.
"We're kind of reshaping the staff a different way. Carl is really going to be an extension of me. He's going to do a lot of different things," Pelini said. "I just think it's important that we got a lot of experience on staff. He'll be used in a lot of different ways. I didn't talk about it, but I used Ron Stoops that way.
"He's going to oversee the whole thing with me. We're going to work together on it. I like the makeup of our staff."
The only other coaching change is that running backs coach Nic McKissic-Luke is expected to take over the special teams unit, which Stoops had coordinated.
More like this from vindy.com