Learn how to build your own ... COLD FRAMES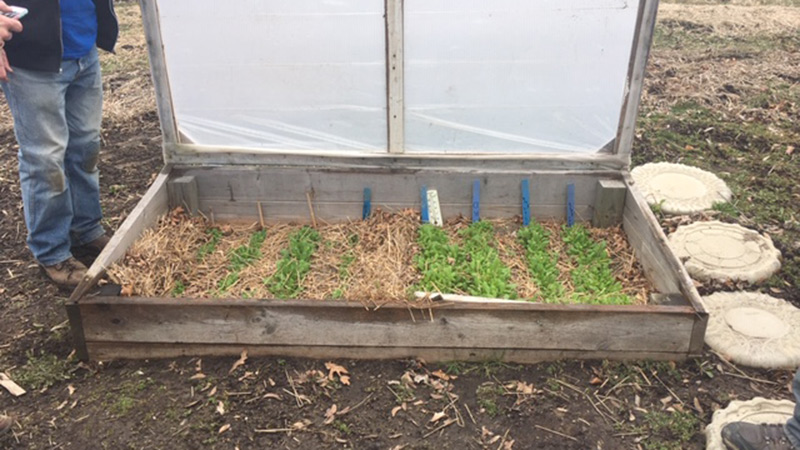 ---
By Lillian Quaranta
OSU Ext. master gardener volunteer
Just outside the back door of my aunt and uncle's garage, to the left of the peony, was a window braced with a small stick.
It was built into the soil and contained rows of red and green lettuce. It was my job to pick that lettuce for the dinner salad.
I remember clearly that lettuce had a weightless, clean taste that was less watery and sweeter than any store-bought I had eaten. My aunt's dressing was simple – olive oil, red wine vinegar, salt, pepper and a handful of water. For some reason (maybe that I thought a stainless-steel fork would ruin the taste) I'd pick up a few red and green leaves, dab them in the dressing, pop them in my mouth and chew. Silly kid.
Out of all the wonderful homemade pasta, sauces and canned goods my aunt, grandma and mom made, this salad was special.
This year I'm going to reproduce that taste. I've never built a cold frame or grown lettuce, but it's definitely worth a try. It's something all of us can do to grow early season veggies for our meals.
I found out that the construction of a cold frame is relatively easy: a length of 2-by-4s or 2-by-8s cut to fit the space; four 2-by-2s to brace the inside corners; and finally, a second-hand window to hinge on the tall side of the frame.
The University of Missouri suggests that "the backwall measure 18 inches from the top of the window frame and the front wall, 12 inches for a 6-foot frame. Coat untreated wood with white latex paint and weather strip at the joints for heat retention."
Sounds like a doable project for me in my basement this winter.
In the spring, I can prepare the soil by light tilling, weeding and leveling the bed. It is important to avoid a slant where water would settle and rot the roots of seedlings.
Early in the spring I'll place the frame over the space I've chosen for the bed, making sure I bury º-inch chicken wire deep around the outside of the frame. After the soil has warmed for about a month and before the last frost (generally, in our area, that's May 15), I can plant my lettuce seedlings in the cold frame to harden. Being careful of their roots, I'll gently lift them by their leaves, tap into the soil, then water and ventilate. And then I'll check the weather for cold or heavy rain to lower the window.
I'm looking forward to growing and harvesting a variety of lettuce in my uncle's cold frame, mixing my aunt's dressing and once again eating it with my fingers. Silly kid.
Visit http://go.osu.edu/coldframe to see photos and plans for building a cold frame, as well as uses at your home.
More like this from vindy.com