Young author has book signing at Barnes and Noble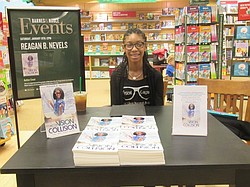 Photo
Neighbors | Jessica Harker.Reagan Nevels, an eighth grader at Austintown Middle School, signed copies of her book "Vision Collision" at the Boardman Barnes and Noble Jan. 19.
By JESSICA HARKER
jharker@vindy.com
Austintown Middle School student and published author Reagan Nevels had a book signing event at Barnes and Noble on Jan. 19.
Nevels was signing copies of her book, "Vision Collision," which is about her four step process to accomplishing your goals.
The steps are think, write, believe and achieve, Nevels said, and can be adapted to any dream someone may have.
"Think is the process where your mind manufactures ideas and it turns them into thoughts, and if you gather all of your thoughts together and you go to write," Nevels said.
Once you write your ideas down, Nevels said it is key to believe in yourself to be able to accomplish your goals.
"I also talk about having two accountability persons. One person to hold you accountable and say you want this dream or goal accomplished at this time and so you have to get a move on, and one person to inspire you to encourage you to say its never to late or too early for you to accomplish those dreams," Nevels said.
She said that her accountability people are her mom, who always keeps her on track, and her family who always encourages her.
After going through all three steps and preparing yourself, Nevels said that then you can achieve your goals,
"Most people think achieving is the easiest, which it isn't," Nevels said. "It's where you put everything into action, all you had to do before is to think write and believe but after you get all of those tools and you have all of those steps you can put everything into action from there."
Nevels is currently an eighth-grader at AMS, and she said her inspiration for writing this book came from using this system for her own writing.
"I honestly didn't know that I was going to write this type of book," Nevels said. "I kept writing and writing I found that this is the four step process I was using and I figured that it would be useful to help other people who were trying to do the same thing."
As a published author who is still in school, Nevels said a lot of her classmates do ask her for help.
"It's different, it's unique. People are asking me questions throughout the day having me help them with their writing essays and things like that because they know I have wrote a book," Nevels said.
Nevels has another book in the works, the title of which she won't release until it comes out, but will be published in 2019.
"This book is focused on young people to encourage them and know it's never too late to start accomplishing your dreams and goals," Nevels said.
Along with her interest in writing self help books, Nevels said she loves writing mysteries and is considering writing a children's series.
"I enjoy writing, and this is just a way for me to continue to do that," Nevels said.
More like this from vindy.com