Purple Star Committee members visit Austintown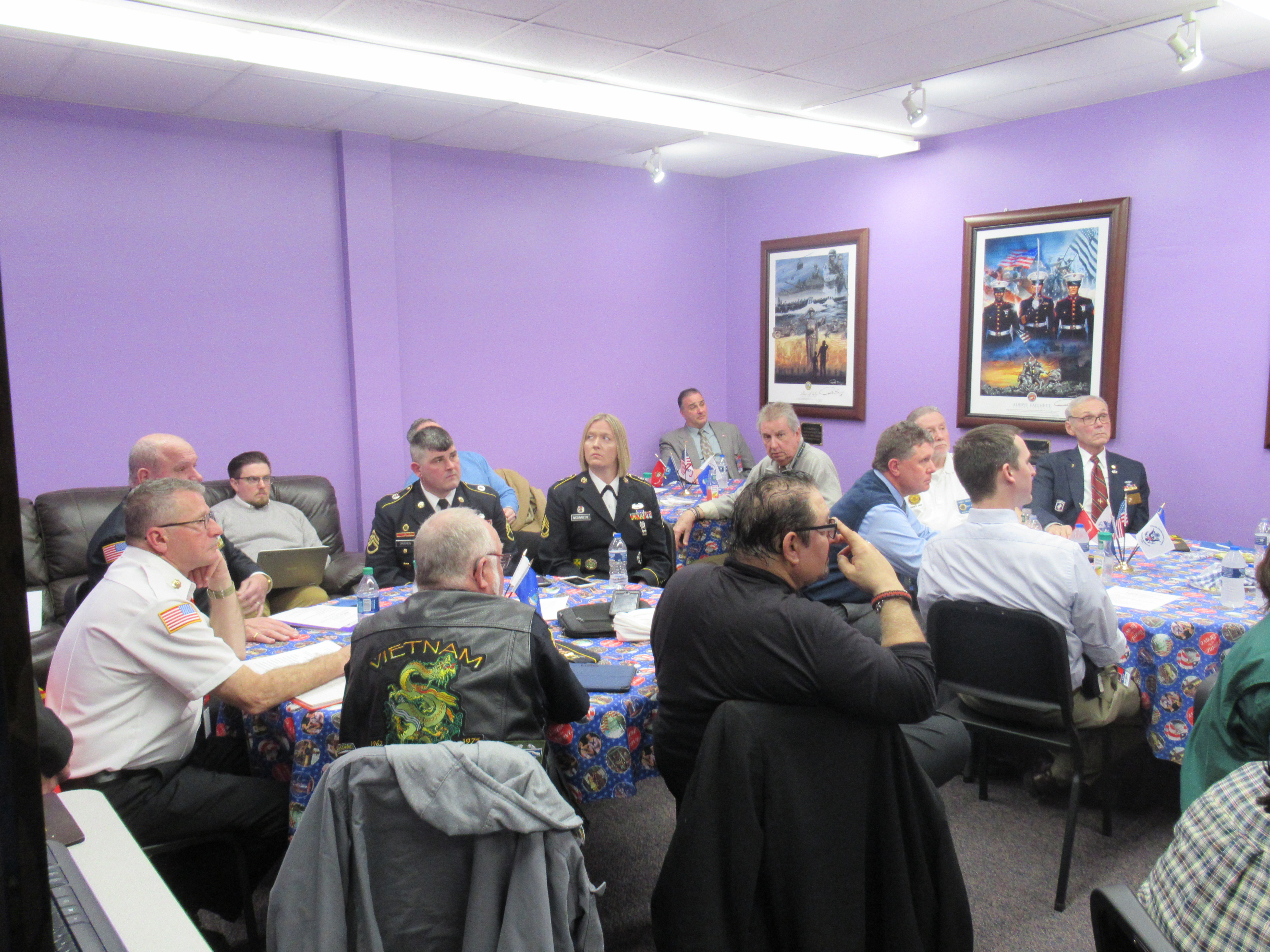 ---
By JESSICA HARKER
jharker@vindy.com
Members of the Ohio Department of Education's Purple Star Committee visited Austintown Fitch High School on Jan. 23 to see the Purple Star room.
Representatives Chip Merkle and Pete LuPida traveled from Columbus to see the room first hand, stating Austintown is the only one of 142 Purple Star schools in Ohio with a designated space for students.
"They are doing a great job of supporting military families, they really are," Merkle said. "I wish everybody would give it that kind of effort."
Austintown received the Purple Star Award from the ODE in March 2018, and unveiled the room shortly after.
LuPida said that the award was created in the Fall of 2016, after months of meetings surrounding the criteria.
"We said, 'How do we create military friendly?' because that's a label and what's the serious criteria behind that," LuPida said. "We had focus groups and conference calls, online surveys and we met across Dayton and Columbus with veterans, educators, military students, K-12 kids, parents, spouses and said, 'Well lets come up with that criteria,' and that's what we did."
The criteria includes the school having a staff point of contact for military students and families to communicate between them and the school, as well as a page on the schools web site for military resources.
Merkle said that Austintown Fitch High School went above and beyond expectations for the award.
"We weren't really expecting anything like this," LuPida said. "We got to meet the artist and residents here who created all of this."
Merkle had visited the room previously, following a meeting with Austintown communication representative Brittany Bueno.
"He stood there for 30 seconds without saying anything, and I asked him if he was okay and he said, 'I'm amazed,'" Kenneth Jakubec said, a military veteran and a member of the veterans day committee at Austintown who escorted Merkle on his first visit.
Merkle explained that after the first showing of the room, he knew he needed to bring other members of the ODE to see it.
Along with Merkle and LuPida, representatives from the school district, local veterans, recruiters and members of the students serving veterans committee and purple star students attended the event.
"We were standing by the one out front, I asked how ours was compared to other schools and he [Merkle] said there aren't any like this," Jakubec said. "This is absolutely amazing."
The group had dinner, provided by the school, and then engaged in a conversation about possible ways to improve the ODE Purple Star program, setting an example for other Ohio schools and states looking to adopt the program.
"In no way at all is it a mandate which means it has to be organic, it has to be home grown," LuPida said.
Jakubec said that there were different ideas surrounding ways to use the space, including starting a signing day for students who are enlisting.
"For me, kids are signing because they are getting a scholarship to play football, these kids are signing to serve their country," Jakubec said.
Other ideas were offered up by Purple Star student Stephanie Mulligan, who said she wanted to expand the program, having Purple Star students and members of the SSV organization travel to other schools to educate them.
"A lot of people tend to not know what it means that I am a Purple Star kid, they don't understand that my brother is deployed, or what that means for my family," Mulligan said.
LuPida said the idea behind the brain storming session was to combine the most involved members of the community to find the best ways to serve the students.
"It's got to be not just the full time school district staff but it has to be the folks in the building, the community leaders, that's what you see here, and that's what makes up the purple star committee because no one in Columbus can say do this or do that it has to be home grown," LuPida said.
More like this from vindy.com