Greatest Golfer scramble winners bounce back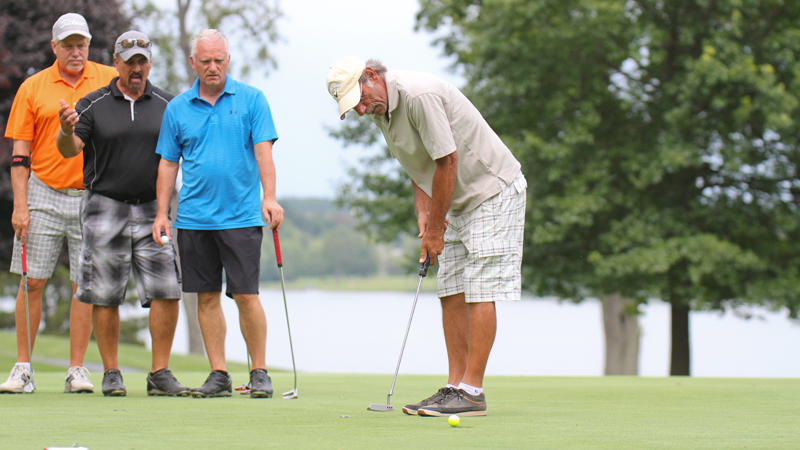 ---
By GREG GULAS
sports@vindy.com
POLAND
Last year in the Greatest Golfer of the Valley's Coors Light Scramble Championship, the team of Nolan Snyder, Joey Shushok, Cade Kreps and Brandon Pluchinsky fell to third place after a scorecard playoff.
Monday at The Lake Club, the quartet made sure that a scorecard playoff wasn't necessary.
Snyder's team, winners of the Needy Children Christmas Fund qualifier, posted a 17-under 53 to claim top honors, one stroke ahead of the Applewood Swim Club (Blase Cindric, Doug Bleggi, Scott Russell and Steve Richman) and M&M Golf Classic (Mick Engle, Todd Bury, Jacinta Pikunas and Abbie Pearce).
By virtue of a scorecard playoff, Applewood finished runner-up after carding 27 on the back nine, compared to M&M's 28.
"We started on hole No. 4, a hole that you should eagle but you're still nervous," said Snyder, an Ellsworth resident. "Cade's initial shot of the scramble fell about three feet from the hole, we finished with an eagle and that set everything in motion for us.

"It really was a lot of fun today."
Kreps, a Boardman High graduate who is a red-shirt sophomore on the University of Akron golf team, also had an important chip shot to help his team.
"That first shot kind of set the tone for us, but my chip in on No. 15 was also huge because it turned out being a skin," Kreps said. "I enjoy playing with this group and the entire event was super fun."
The group relied on Shushok's putting.
"I really didn't have to do a lot today," the Austintown native said. "My teammates set the pace and all I had to do was knock the ball into the hole and keep putting well.

"Putting is the name of the game here at The Lake Club and I just did my job. When you have an ex-college player in Brandon and current college player in Cade, there isn't much to worry about."
Pluchinsky, a former Youngstown State University golfer and South Range High School graduate, was a scramble champion in 2015. He also has won two individual Greatest individual titles (2016 and 2017).
"We played really well as a team today," Pluchinsky said. "It was a collective effort, but we got the ball rolling early and never really let up."
Jill Harmon, owner of Insta-Copy in Salem, has played in eight of 10 scramble events and was part of the 2014 runner-up squad.
"What I like about the Greatest Golfer is that it brings people with a common interest together," she said. "You see a lot of smiling faces and I commend Vindicator editor Todd Franko for his efforts because he has done a great job of keeping women golfers alive with this event."
Eric Carano of Liberty was part of the team that qualified from the Magic of Michael Foundation's event.
"This is my first time playing in this event and it is absolutely impressive," Carano said. "The conditions were great, the course in excellent shape and it was a lot of fun. The competition was excellent and what I expected."
George Rohan III, whose team qualified during the Boardman Baseball golf outing at Mill Creek, finished runner-up in the 2016 Greatest Long Drive competition.
"As a baseball player, this is totally different in that it takes me out of my comfort zone, but that's alright. It's a blast because you get to play against some great players, you meet new people and make a lot of new friends."
Poland's Steve Sofocleous, owner of Plaza Auto Sales, was playing in his third Greatest scramble, having won the 2013 net championship.
"There are so many scrambles held in the area, but this is the Big Kahuna," he said. "Everyone wants to be in this scramble and rightfully so."
Franko said the 10 years have flown by.
"It's amazing to be starting our 10th Greatest week," he said. "If anyone says we had this planned when we started in 2010, they're fibbing.

"We're grateful that the pieces of this pie came together to do something great for the Valley."
Greatest week continues Thursday with the HBK Longest Drive at Tippecanoe Country Club. The event gets under way at 6 p.m. with prizes provided by Golf Headquarters.
The Farmers National Bank 54-hole stroke play tournament gets under way Friday at 8 a.m. at Mill Creek.
It continues Saturday beginning at 10:30 a.m. at Youngstown Country Club, Tippecanoe, Avalon Lakes, Trumbull Country Club and Salem Golf Club.
Finals are set for Sunday beginning at 9 a.m. at The Lake Club.
Admission is free and spectators are welcome at all Greatest events.
More like this from vindy.com