Library hosts monthly book club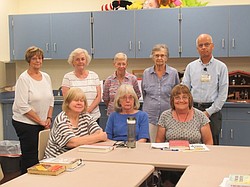 Photo
Neighbors | Jessica Harker.Librarian John Yingling and the Readers Choice Book Club members met at the Boardman library on July 8 for the group's monthly meeting.
By JESSICA HARKER
jharker@vindy.com
The Boardman library hosted the monthly Chapter Chat book club on July 8.
Librarian John Yingling hosted the group, discussing "The Codling of the American Mind" by Greg Lukianoff.
"I usually pick the books," Yingling said. "But I often take recommendations."
The book club has about 12-15 usual members, according to Yingling, but anyone is able to attend.
"You can just show up, you don't even have to have read the book you can just listen to the conversation," he said.
At the end of each meeting, the group discusses what each of them have been reading outside of the group.
The meetings are on the second Monday of every month.
Yingling said that there are no requirements to attending a meeting, especially enjoying the book.
"Some of our best discussions have been when the group doesn't enjoy the reading," he said.
Members said that he often takes recommendations from them, including that month's book, which was suggested by a number of members.
Next month the meeting will be on Aug. 12, discussing "Finding Dorothy" by Elizabeth Letts.
More like this from vindy.com