Green Team visits the Poland library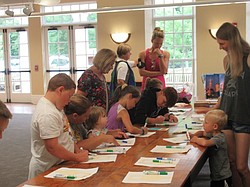 Photo
Neighbors | Jessica Harker .Children and their families gathered at the Poland library for the Green Team's visit from Mother Earth.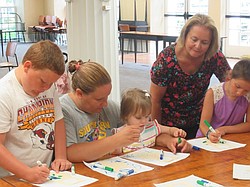 Photo
Neighbors | Jessica Harker .Children colored door hangers to look like the earth at the Poland library's Green Team event.

Photo
Neighbors | Jessica Harker .Joey Stidom, age 7, colored his door hanger provided by the Green Team July 16 at the Poland library.
By JESSICA HARKER
jharker@vindy.com
The Green Team visited the Poland library on July 16.
Peggy Flynn with the Green Team, visited the library dressed as Mother Earth to teach children about the importance of taking care of the environment.
"The greatest thing you can do is love the earth," Flynn said.
She started out the event by reading "Dear Children of the Earth" to the children gathered at the event.
"The book really goes over how we are all living on the earth, but that the earth is also a living thing," Flynn said.
After reading the book, Flynn answered questions by children gathered about the different things they can do to help the environment.
Flynn then showed children how to decorate door hangers provided by the Green Team to look like the earth.
"The older kids like to try to make the shapes of the continents," Flynn said. "But the younger children can just draw the blue and green."
After decorating the door hangers, children were able to take them home.
"The Green Team visits the library event single year," said librarian Karen Steed.
Steed said that the team comes up with a different program every year, which includes a new book and craft.
"We also have a lot of books about the earth and recycling families can take home with them after the program," Steed said.
The Green Team will be at a number of other libraries in the Mahoning County system before the end of the year.
For more information on these or other upcoming library events, go to www.libraryvisit.org.
More like this from vindy.com