Canfield Scout Troop 9025 goes to Washington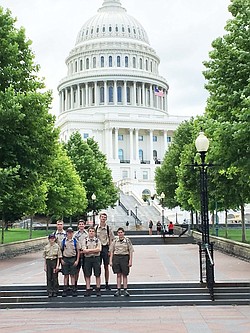 Photo
Neighbors | Submitted.Pictured stopping on the steps at the National Capitol in Washington, D.C. during their recent visit were members of Scout Troop 9025, from left, (front) Steven Canton, Cade Henry, Wesley Rich, Albert Pacella; (back) John Heino, Evan McNally and Josh Farley.
Seven members of Scout Troop 9025 traveled to Washington, D.C. the weekend of June 21 to experience the city's monuments and historical significance.
Troop members explored the National Mall, Arlington Cemetery, the National Rifle Association Firearms Museum and camped at Greenbelt National Park.
The troop takes a historical focused trip once per year and is slated to visit the Gettysburg National Military Park, camp at McMillan Woods Youth Campground and participate in the Gettysburg Heritage Trails program next year.
After participating in the Canfield Fourth of July parade, the troop left for Summer Camp the following Sunday at Seven Ranges Scout Reservation in Kensington. The troop spent six nights camping and participating in various programs and activities and working on a variety of Merit Badges offered at the camp. On Wednesday night, four members of the troop were called out by the Order of the Arrow and will attend a weekend Ordeal Ceremony program to become members of the OA, Scouting's National Honor Society. Members of the Troop also participated in the camps Pipestone Ceremony on Friday night.
Troop 25's upcoming calendar includes a Canoe Trip and meeting at the Canfield Fair in August, the Put-In Bay Camporee on Lake Erie, the Fall Court of Honor and the 100th anniversary of Camp Stambaugh Camporee in September, Minister Creek Backpack Trip in October and a Junior Leader Training Camp out in November.
Troop 25 meets every Wednesday evening at 7 p.m. in the basement of Canfield United Methodist Church, located at 27 S. Broad St. in Canfield. To learn more about Troop 25's youth opportunities for boys and a newly forming girls troop, visit www.Troop25Canfield.org. To contact the Troop 25 Boys Scoutmaster call Kevin Prus, Sr. at 330-533-5616, or for the newly forming Troop 25 Girls, call or text either Suzanne Heino at 330-261-3127 or Lisa Henry at 330-519-3752.
More like this from vindy.com