Bogey's plays it to the tune of excellence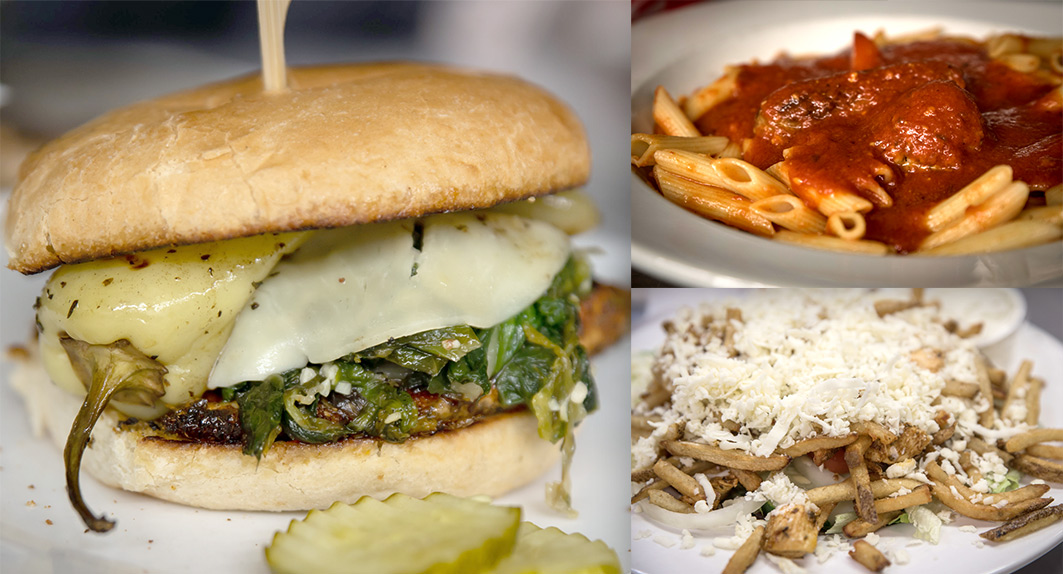 ---
Two $10 vouchers for $10
Bogey's Bar & Grill
Address: 3535 Upland Ave., Lowellville
Hours: Open daily at 11 a.m., closed Mondays
Fare: Italian-American food, burgers, pasta
The deal: ValleyDeals365.com
Watch our interview with Bogey's owner and head chef Melvin McKee on vindy.com/valleyfood
ValleyDeals365 Deal #2
1/2 OFF VOUCHER FOR MARINOS ITALIAN CAFE.
Valley Deals 365 - Bogey's Bar & Grill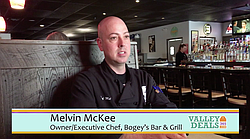 Video
An interview with Melvin McKee, Owner and Executive Chef at Bogey's Bar & Grill. This video feature is from Valley Deals 365, a partnership between The Vindicator and 21 WFMJ-TV. Visit Valleydeals365.com to view this and other deals.
By Corey Crisan
In Partnership with 21 WFMJ-TV
LOWELLVILLE – Around the corner from Knoll Run Golf Course on Route 616 is an establishment that continues its run of variety. Celebrating its 10th anniversary in 2019, Bogey's Bar & Grill continues to fashion award-winning staples to the Mahoning Valley.
No, it is not named for the links that reside nearby. Bogey's is named after classical movie icon Humphrey Bogart.
"The previous [business] partners were all movie buffs," Bogey's co-owner and head chef Melvin McKee said. "I incorporated the theme of Humphrey Bogart into Bogey's, as opposed to bogeys, next to the golf course."
McKee is partners in the business with Carmen LoFaro.
The décor inside Bogey's checks that, with replica posters and quotes of some of Bogart's notable films, including 'Casablanca,' 'King of the Underworld,' and 'The Maltese Falcon.'
Bogey's award-winning burger was recognized in 2013 by the BurgerGuyz as its Burger of the Year. At the time, McKee said it was his greatest accomplishment, as Bogey's earned 4 ½ stars out of five from the BurgerGuyz.
"Everybody has a burger," McKee told The Vindicator in 2013. "To be ranked first out of the 54 burgers reviewed in the area is a great achievement."
Looking back at it, McKee realizes why his burger won the award and why it still stands tall in the Mahoning Valley.
"We were just trying to offer a really exceptional burger," McKee commented. "To earn recognition for it, and it's just kind of snowballed."
In addition to award-winning burgers, Bogey's offers its contribution to the massive Italian food scene the Youngstown area has.
"All of our sauces are made from scratch," McKee said. "We serve a ton of Italian food. I was asked one time what my favorite thing to make was, and it's the original red sauce. We make about 120 gallons a week. I've said before, you can drink it. It tastes like grandma's."
Bogey's menu spells variety. Homemade wedding soup is made daily and six lighter salad options are offered. McKee's eight Italian specialties and eight unique pasta dishes give range towards its customers.
The king of Bogey's menu is its burgers. Eleven options can be cooked to taste, while a variety of toppings are offered. Extending beyond the classic cheeseburger toppings such as lettuce and tomato, anyone can grab a burger with fried Italian greens, one with portobello mushrooms, one with shaved ham, and one with onion rings.
Bogey's also offers full-service catering, and that undoubtedly keeps it busy throughout the year.
"If you wanted to have an event in your backyard, we can facilitate that," McKee said. "We [also] have our own dedicated facility. We've catered at the Tyler History Center, Mill Creek MetroParks, and several different churches."
Bogey's has a separate menu for catering, where parties can be served with full pans of chicken, beef, seafood, pork, and pasta trays. Select versions of McKee's specialties are also offered by the tray.
For the restaurant and catering menu, for information on Bogey's banquet center, and for a schedule of upcoming events at Bogey's, visit bogeysbarandgrillohio.com.
More like this from vindy.com