Poland hosts book drive to benefit classrooms

Photo
Neighbors | Submitted.The Caring Club in Poland hosted a book drive begining March 11.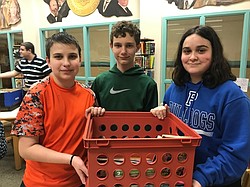 Photo
Neighbors | Submitted.Poland seventh-graders, from left, Kyle Varkonda, Michael Fitzpatrick and Jett Slaina, helped collect donated books for the Caring Club's book drive.
By JESSICA HARKER
The Poland Caring Club organized a book drive to benefit Poland Students.
According to school counselor Wendy Butch who advises the club, the idea was new for this year.
"We wanted to do a service project relating to taking care of our schools or community," Butch said.
The school's Caring Club consists of students in third through fifth grade.
Students in the Caring Club also partnered with the sixth- through eighth-grade Kindness Club to run the book drive.
"So the book donation project became a joint effort," Butch said.
Poland families donated to the cause, collecting 657 books.
"As part of the literacy grant that our school received this year, all the teachers have to have a classroom library," Butch said. "We thought a book drive could help build them."
Butch said the group chose the month of April to collect books because it is National Reading Month.
For two weeks students brought books for the drive, collecting them in Poland Middle School's library.
After the collection, students and advisors gathered at Poland Middle School to sort and distribute the books.
Butch said 60 Caring Club and Kindness Club student members assisted in sorting the books.
"Families were very generous," Butch said. "We had a lot to go through."
Students organized the books by reading level, and decorated boxes to deliver the books in.
"We even received books that we will be donating to the preschool at Union, grades kindergarten through second at Union Elementary, and the high school," Butch said. "Our whole district will benefit thanks to our generous families and hard working Caring Club and Kindness Club members."
More like this from vindy.com