Meditation class offered at library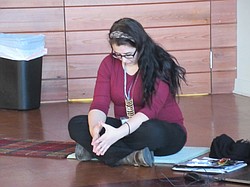 Photo
Neighbors | Jessica Harker .Librarian Hannah Matulek hosted the monthly meditation and relaxation event on March 25 at the Michael Kusalaba library.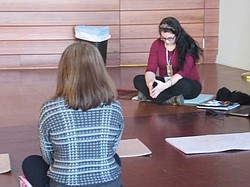 Photo
Neighbors | Jessica Harker .Community members gathered at the Michael Kusalaba library for the monthly meditation class run by librarian Hannah Matulek.
By JESSICA HARKER
A Monday relaxation class was offered at the Michael Kusalaba library on March 25.
Librarian Hannah Matulek ran the event, saying that the best day to focus on relaxation is the beginning of the week.
"Monday's are the day's you need it the most," Matulek said. "It's when the weight of the whole week is on you."
The class is called Stress Reduction Exercises and Meditation, and is offered once a month.
Matulek said that the idea for the event was started when she was in college, and regularly attended meditation classes.
"Once you get into the habit of going it really makes a difference on your week," Matulek said.
Community members attended the event, bringing pillows or mats to sit with on the floor.
Matulek led participants in a guided meditation with light exercises designed to relax and rejuvenate the participants.
"We all need to do something for ourselves and this is one way to do that," Matulek said.
For more information on upcoming library events, go to www.libraryvisit.org.
More like this from vindy.com