Austintown Elementary celebrates Autism Awareness Day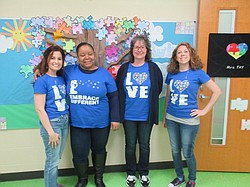 Photo
Neighbors | Jessica Harker .Holly Fay (left), the teacher of the Lighthouse Unit at Austintown Elementary School, and her team of paraprofessionals posed on April 2 for Austism Awareness Day.
By JESSICA HARKER
Staff and students at Austintown Elementary School sported blue on April 2 for Autism Awareness Day.
AES lighthouse teacher Holly Fay organized a lesson plan and informational video for teachers to celebrate the day.
"We really aren't that different we just learn in a different way and they see the world in a different way," Fay said. "But if you can understand the way they see the world than you can see it's not that different after all."
The lighthouse unit at AES is responsible for teaching students with autism at the school.
Fay works with three paraprofessionals and can maintain six students in the unit at a time.
To celebrate Autism Awareness Day, Fay created a book for teachers to reference that contained a mini lesson plan they could incorporate into their day.
"The book describes the lighthouse unit and also students with autism, just to let them know what the lighthouse is as well as describing what they can expect from the student that they see everyday," Fay said.
She encouraged teachers to show the video to students and to teach them about autism, and what being autistic actually means.
Fay also sent the information to board members and Superintendent Vince Colaluca.
Additionally, she provided pamphlets with more information on autism to teachers in each "nest" at the school, so they can have more background information before they teach the lesson.
Teachers were asked to donate $2 to wear jeans that day, with all the proceeds benefiting the lighthouse unit.
Fay also created 130 blue puzzle piece pins that were distributed to all the staff members at the school.
"They are very supportive," Fay said. "Our message was just to bring the school together."
Fay said this is the first year the lighthouse unit has made a big push for Autism Awareness Day, but that it wouldn't be the last.
"I could already feel it when I walked in this morning because everyone has their pins on, and they are wearing blue," Fay said. "It's been great, it's been a lot of fun."
More like this from vindy.com