River Road Tavern brings unique to all aspects of menu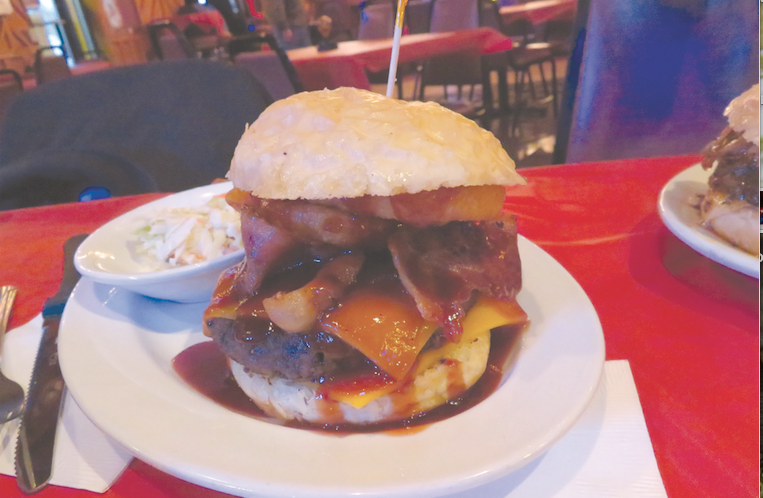 ---
By Anthony M. Fuda
BurgerGuyz@hotmail.com
Everybody has a run-of-the mill-burger and fries. ... Well, not so fast. The chefs at River Road tavern take originality to the next level and blow the doors off your run of the mill menu, and it's all geared toward a family setting.
They make everything in house. And the burgers are always fresh because they are made as you order them. They're never frozen because they don't want your burger to taste like "freezer."
Owner Terri Roper handles a great portion of the chef duties, mainly because she wants perfection in the kitchen and continued perfection when the food is presented to the customer. They also have a lot of proprietary recipes that were handed down from mothers and grandmothers.
Besides the creativity in the burgers, they carry creativity to all aspects of the menu.
We were treated to an appetizer of Buffalo Chicken Sticks that are deep-fried chicken sticks and a special buffalo cheese dip. These chicken sticks had a great taste by themselves, and then after you dip them in the cheese dip, you'll find an extra yum. This was just a teaser of what was to come, and we couldn't wait.
The menu offers 10 half-pound burgers that are sided with homemade tots and slaw.
IF YOU GO
WHERE: River Road Tavern, 1556 N. River Road NE, Warren
Phone: 330-469-5931
Hours: 9 a.m. to 11 p.m. Tuesday-Thursday (kitchen closes at 9 p.m.); 9 a.m. to 1 a.m. Friday; 11 a.m. to 1 a.m. Saturday (kitchen closes at 9 p.m.); Noon to 6 p.m. Sunday; Closed Monday
Burgers: 10 ($9.90 - $9.95)
Website: Facebook- River Road Tavern
Rating: 4 ½ stars
The great choices are:
ABC Burger (gouda cheese, bacon, caramelized apple)
Eggs-cellent Burger (American cheese, bacon, over easy egg)
Classic American Burger (American cheese, bacon, lettuce, tomato, onion, pickle, ketchup, mustard, mayo)
Mushroom Swiss Burger (Swiss cheese, sliced fresh grilled mushrooms)
Pulled Pork Burger (loaded with pulled pork, Swiss cheese, barbecue sauce)
Wrangler Burger (cheddar cheese, bacon, onion rings, pit-style sauce)
Old Philly Burger (grilled onions and peppers, cheese sauce, ketchup)
Buffalo Bleu Burger (sauteed onions, bleu and pepper-jack cheeses, hot sauce)
Rueben Burger (corned beef, kraut, Swiss cheese, 1,000 island)
Fajita Burger (grilled onions and pepper jack cheese, salsa)
I had the Wrangler Burger and was blown away by the flavor each bite packed. The beef was seasoned well and invited the barbecue sauce to fill in any extra flavor pockets. The bites were getting fewer and fewer, but the bacon was plentiful, and it's bacon ... you can't ever go wrong with bacon. The pit-style barbecue sauce had me wanting to lick the plate so I didn't waste a drop. I didn't lick the plate, but I did take some of the delicious homemade tots and soaked up all the barbecue sauce I could. Before I knew it, those bites turned into an empty plate. A great burger will have that effect – and this is a great burger.
Eric Tranovich chose the Buffalo Bleu Burger and noted, "Usually it's the places that aren't yet well known where one finds some of the best food. River Road Tavern is the epitome of that. It was a tough choice with such a wide selection, but I settled on the Buffalo Bleu Burger. I don't think even a thesaurus has enough synonyms for the word 'delicious' to get my point across. From the freshness of the beef, to the toppings that played off each other perfectly, to even the bun that stayed in one piece until the final bite, this burger had it all. And those homemade tater tots? I don't think it's a stretch to say I'll never have tater tots this good again. After my first bite I immediately regretted not asking for extra. The Buffalo Chicken Sticks we had were a great start to our meal, and the Cheesecake Bites at the end capped off an already perfect meal. I can't wait to come back.
We tested out the "family" part of the tavern as Eric brought his 8-year-old daughter Olivia to help us with this review. She split a Classic American Burger with her uncle JT, and Olivia's response after I asked her how it tasted was "5,000 thumbs up. I think the hamburgers are great. I'd like to eat them every day for dinner."
JT had the other half of the Classic Burger, and remarked, "Great burger. Perfect. And the homemade tots are out of this world. Definitely not your typical tavern food. I'm with Olivia on this one; 5,000 thumbs up. And I'd like to add, everything was very spic and span. For anyone who hasn't checked out the River Road Tavern since Terri took over last fall, you've got to get there."
Scott had the ABC Burger and was intrigued when he saw the toppings of gouda cheese, bacon and fried apples, and said, "When the burgers were brought to the table my first thought was I wasn't going to be able to finish it as it was a 1⁄2 pound burger and loaded with toppings. What a great tasting burger. The caramelized apple with its sweetness worked really well with the other toppings. Next thing I knew my burger was just a memory, a delicious memory."
River Road Tavern is located down the road from the old Packard plant in Warren. Ten years ago, and under a different name, you couldn't get a seat because people were pouring in before or after shifts. Well, the food is better, and the restaurant is geared toward a family atmosphere, and the burgers themselves are more than worth a visit. Creativity and taste should have the tavern's seats packed from open until close.
Keep reading the Sunday food section. If you find a great burger, drop us a line on Facebook – BurgerGuyz and look for us on Vindy.com
More like this from vindy.com