ValleyDeals365 - Original Roadhouse is 'two-step above the rest'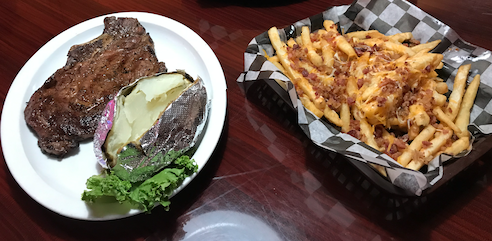 ---
By Corey Crisan
In Partnership with 21 WFMJ-TV
AUSTINTOWN – Country-and-western legends inspire a local establishment geared toward homestyle favorites cooked over a wood fire. Opened as a supplement to a truck stop, the new Original Roadhouse has since molded into a steak house with classic staples.
Billy the Kid, John Wayne, Roy Rogers are a few of the western figures who help inspire creations at The Original Roadhouse.
"Our slogan is, 'A two-step above the rest'," The Original Roadhouse owner Jim Kacherires said. "We cook over a cherry wood fire. That's our unique thing."
The cooking process behind wood fire versus a gas or electric heat is a completely different experience, according to Kacherires.
Valley Deals 365 - The Original Roadhouse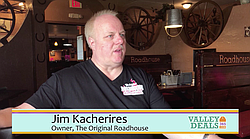 Video
An interview with Jim Kacherires, Owner of The Original Roadhouse. This video feature is from Valley Deals 365, a partnership between The Vindicator and 21 WFMJ-TV. Visit Valleydeals365.com to view this and other deals.
"Any kind of fruit wood is very good to cook over," Kacherires explained. "If I was smoking [meat] I do more of a hickory or something, but cherry or any kind of fruit tree is what sets it away."
The menu options vary, but the staples of The Original Roadhouse are the steaks, named after the aforementioned country-and -western superstars.
$20 voucher for $10
Where: Original Roadhouse; voucher good in New Middletown and East Palestine
Hours: Open daily at 11 a.m.
Offerings: Steak, burgers, salads, chicken
To purchase: ValleyDeals365.com
Watch our interview with The Original Roadhouse owner Jim Kacherires on vindy.com/valleyfood
"You can get anything from a 7-ounce steak to a 20-ounce steak," Kacherires said. "We have a wide range. We have prime rib; we have barbecue ribs. Our menu is a very large menu for anybody to come in and try something for their liking."
Deal #2 and #3
1/2 OFF VOUCHER FOR Candella Micro-distillery and Cava Tapas and Wine Bar.
VALLEYDEALS365.COM
The 7-ounce cut he refers to is the Billy the Kid, while the 20-ounce slab is the John Wayne.
In addition to the sirloin cuts, The Original Roadhouse adds in four options to dress a ribeye, two filet mignon dishes and two prime rib options. All steaks are cooked-to-order, from rare and pink to well done and brown in the center.
The Original Roadhouse's setting is exactly what you may picture – country music permeating the air, the smell of barbecue, saloon-style double doors and memorabilia to resemble the old West.
The meat at The Original Roadhouse is all choice and high quality, meaning the odds of a customer receiving a steak or burger with a lot of fat content is slim.
"My ground meat is from G. Burbick Farms in Columbiana," Kacherires said. "It's all grass fed. The steaks are all fresh cut and never frozen. The ground beef is 80/20. The steaks are at least choice or Angus. I don't go with anything less than a choice product."
At the end of the day, The Original Roadhouse has two large chains to compete with. The homegrown product continues to offer a unique variety to appease any palate.
"We try to do different toppings for steaks or chicken dishes," Kacherires said. "We try to be competitive with pricing and quality. There are a lot of independent restaurants out there that do a better job than a chain restaurant."
The Original Roadhouse has two locations in New Middletown and East Palestine. Each location is open daily at 11 a.m. For the full menu and to place an order, visit The Original Roadhouse.
More like this from vindy.com