Springfield downs W. Reserve, 3-1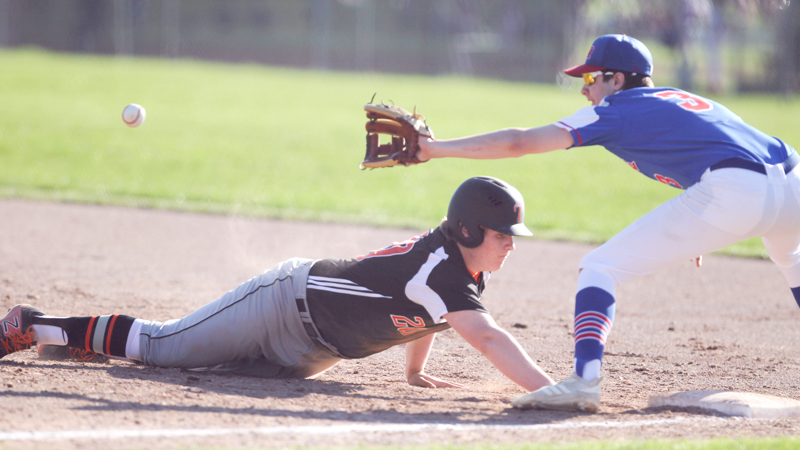 ---
By BOB ETTINGER
sports@vindy.com
NEW MIDDLETOWN
Shane Eynon didn't have his best stuff. The Springfield High School right-hander still found a way to neutralize the Western Reserve offense in Monday's 3-1 victory in Mahoning Valley Athletic Conference action.
"He hadn't pitched in nine days," Springfield coach Terry Dobson said. "He was mixing his pitches.
"Sometimes, he couldn't get command of a certain pitch," Dobson said. "He had trouble with his spots early, so we went to mixing pitches instead of getting him to hit spots. We talked about [his confidence].
"He felt he didn't have his best stuff and I could tell. Instead of making it harder for him, just throw it across the plate and we'll mix up the pitches."
Eynon worked six-and-a-third innings for the win. He allowed one earned run on three hits.
"I felt I was struggling a little today," Eynon said. "There were a lot of wild pitches and passed balls. For the most part, I hit the strike zone pretty well, but there weren't a lot of first-pitch strikes.
"Coach Terry was calling the right pitches and my off-speed stuff was working."
Eynon struck out six, walked two and hit a batter.
"He was mixing his pitches up a little bit," Western Reserve coach Ed Anthony said. "He did a nice job with his curve.
"We've got to do a better job putting the bat on the ball," Anthony said. "That had been an issue for us at the beginning of the year. We had started to put it behind us the last couple of games, then there it was today. We have to put timely hits together and we're just not doing it."
The Tigers (12-1, 8-0) plated a pair of runs in the third after a leadoff single from Drew Clark. Jarrett Orbin got the sacrifice down and Clark went all the way to third when the base was left unguarded.
Orbin reached on a throwing error. Nick Slike's ground ball brought Clark home and Ben Brungard's single scored Orbin for a 2-0 advantage.
"We work on that every practice," Dobson said. "We work on it every single practice. The kids understand the little things all add up to the big picture. We work on the process."
Chris Thompson drew a lead-off walk an inning later, took second on a throwing error and scored on a ground ball from Eynon for a 3-0 lead.
The Blue Devils (8-5, 5-3) mounted a charge in the top half of the seventh behind a lead-off single from Ryan Slaven, who scored on a wild pitch following Jordan Powell's double.
"It's always a battle when we play each other," Anthony said. "We know that. They were able to play small ball. We attempted it, but we weren't successful. I'm proud of the kids. They hung in there and even got one there at the end. We've got to get more timely hits."
Mitchell Seymour shut down the rally with a pair of strikeouts to record the save.
"He's pretty good," Dobson said. "At this point, he hasn't thrown many innings. It might take a while to adjust [to Seymour after facing Eynon]. It's an advantage to have him come in late."
Brannon Brungard paced the Tigers with a pair of singles.
More like this from vindy.com