Rotary hosts breakfast to award local charities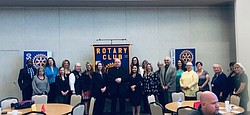 Photo
Neighbors | Submitted.The Poland Rotary hosted a breakfast for all the recipients the group chose to donate the proceeds of over $25,000 from the Poland Rotary's Night at the Races and Chili Open Events.
By JESSICA HARKER
The Poland Rotary hosted a breakfast for the charities the group chose as recipients for more than $25,000.
According to group member Mary Ann Carano, the money was raised during the Rotary's annual Chili Open and Night at the Races events.
"It is just a way to get everyone together and to reward these charities for the hard work that they do," Carano said.
Recipients for this year included the Boys and Girls Club, Mission of Love, Second Harvest Food Bank, Sojourner House and more.
In total 20 non profit organizations received a portion of the money raised.
Carano said that every year the rotary chooses from a number of organizations that apply for donations.
She said that preference is given to groups the Rotary has been working with for a while, but many times all charities that meet their standards receive a portion of donations.
Carano said that this year was no exception, with every group who applied being accepted.
"All of these organizations are amazing and so it is hard for us to say no," Carano said. "So if we have the means we do it."
Along with these donations the Poland Rotary will be giving out a scholarship of $1,000 to a Poland Seminary High School students graduating later this year.
More like this from vindy.com