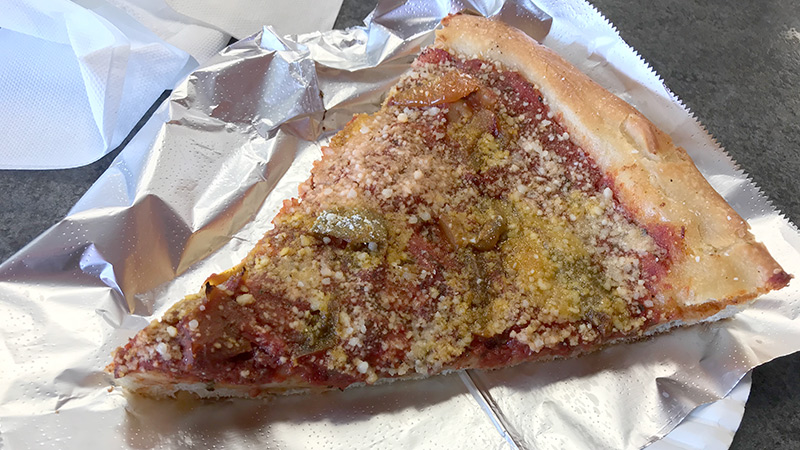 ---
Valley Deals 365 - Bruno Bros. Pizza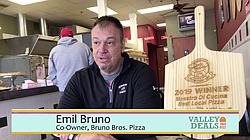 Video
An interview with Emil Bruno, Co-Owner of Bruno Bros. Pizza. This video feature is from Valley Deals 365, a partnership between The Vindicator and 21 WFMJ-TV. Visit Valleydeals365.com to view this and other deals.
$20 voucher for $10
Bruno Bros. Pizza
Where: Bruno Bros. Pizza; voucher good at all locations – Austintown, Boardman and Canfield
Hours: Monday-Saturday: 10 a.m.-9 p.m,; Sunday, Noon-8 p.m.
Offerings: New York-style pizza, salads, calzones
To purchase: ValleyDeals365.com
Watch our interview with Bruno Bros. co-owner Emil Bruno on vindy.com/valleyfood
Valley Deals 365 Deal #2
1/2 OFF VOUCHER FOR KYRA RESTAURANT & WINE BAR.
By Corey Crisan
In Partnership with 21 WFMJ-TV
AUSTINTOWN – Two brothers have forged a pathway into a rich Italian food culture in the Mahoning Valley. After owning a Scotto's Pizza franchise in Niles' Eastwood Mall, Emil and Joe Bruno decided to take over and re-brand to their own flavor in 1998.
"My brother and I have been doing this since we were 15 years old," Bruno Bros. co-owner Emil Bruno said. "We each worked in a pizza shop [and] always dreamed of doing it together, we started that 30 years ago."
The brothers made a dream come true, as they have since branched into three locations in Austintown, Boardman and Canfield. Their goal was to hone in the "New York" style pies – a thin crust with house-made sauce and fresh cheese, to the consistency of creating a foldable slice.
"If you have a good piece of bread or crust, you could put a slice of bologna on it, and it's going to taste good," Emil said. "We strive with our dough. … You pick that [slice] up, fold it, and you eat it."
The New York-style pizza has become a fan favorite because of its simplicity – just like the pies in New York are made.
"We've Americanized pizza over here with a lot of toppings," Emil commented. "But sometimes, that New York-style pizza … we'll sell so many cheese ones. I always say if you can eat a pizza plain, it's good. If you have to go somewhere and load up on the toppings, you know you're not at a good pizza place."
The Youngstown signature Brier Hill pizza is another fan favorite from Bruno Bros.
"We use a blend of sauces," Emil laid out. "We use a fried pepper and a quality, grated Romano cheese. The way we cook our pan in the oven with nothing on it and the sauce cooks together, it makes ours unique."
All Bruno Bros. locations offer pizza by the pie or by the slice, giving customers opportunities to sample or go big as they please.
"You're not going to order a whole pizza for lunch," Emil suggested. "You come in, grab a slice and you're out of here. The slices cater toward the lunch crowd. The whole pizzas, we switch toward the nighttime crowd."
Even with the widespread selection of classic slices, it's not all about the pies at Bruno Bros. Each location features calzones, pepperoni rolls, sandwiches and even pasta dishes to cater to different flavors.
Even with other options, it is safe to say that Emil and Joe Bruno have pizza figured out. Evidenced by the numerous awards that hang in each location, including their most recent honors earned at the Mahoning Valley Pizza Cook-off fundraiser in March. Bruno Bros. earned the Maestro di Cucina for best local pizza, and they also earned recognition for their "No-Red" pizza.
"We're very proud of it," Emil said. "We've partnered with the Potential Development fundraiser for 10 years, and it's been good for everybody. We're happy to support them. … We've won in every single category that there is over the years."
Some recognition goes back nearly a decade, including on the national scale. USA Today recognized Bruno Bros.' Brier Hill pizza in 2010 as part of its "Great American Bites" feature.
Each Bruno Bros. location is open Monday through Saturday at 10 a.m., and Sunday at noon. For the full menu and to place orders, visit brunobrospizza.com.
More like this from vindy.com