Local leaders volunteer with Meals on Wheels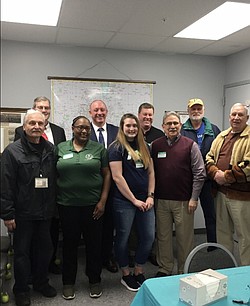 Photo
Neighbors | Submitted.Mayors and government representatives volunteered with Meals on Wheels to deliver food to members of their respective communities.
By JESSICA HARKER
Meals on Wheels of the Mahoning County paired up with local leadership to deliver meals to community members on March 11.
According to Meal on Wheels President Kathleen Esseniyi six local leaders volunteered to deliver meals to their community.
Austintown's Administrator Michael Dockry, Boardman Trustee Tom Costello, Mayor Nick Phillips of Campbell, Mayor Richard Duffett of Canfield, Mayor Tim Sicafuse of Poland, and representing Youngstown Dawn Turanage Director of Youngstown Parks all volunteered to spend a few hours delivering meals.
"To have our local leaders involved promotes awareness of our program and pride in our communities. This in turn promotes more volunteers without which we could not exist," says Patricia Clinkscales, Office Manager.
Community members were surprised to see local leaders they recognized delivering meals along with their usual Meals on Wheels representatives.
"How cool is it that the people who are getting meals delivered get to see their mayor delivering it to their house," Esseniyi said.
The event was part of Meals on Wheels annual March for Meals campaign.
"It is an annual month-long event designed to generate public awareness about senior hunger and isolation and to celebrate the invaluable services provided by Meals on Wheels programs," Esseniyi said.
She said that the campaign is intended to showcase the success of the Older Americans Act, and help recruit volunteers from the community.
"The local leaders who participated all commented what a priceless service Meals on Wheels provides for our local senior citizens," Esseniyi said.