Canfield Presbyterian Church hosts Giant Egg Drop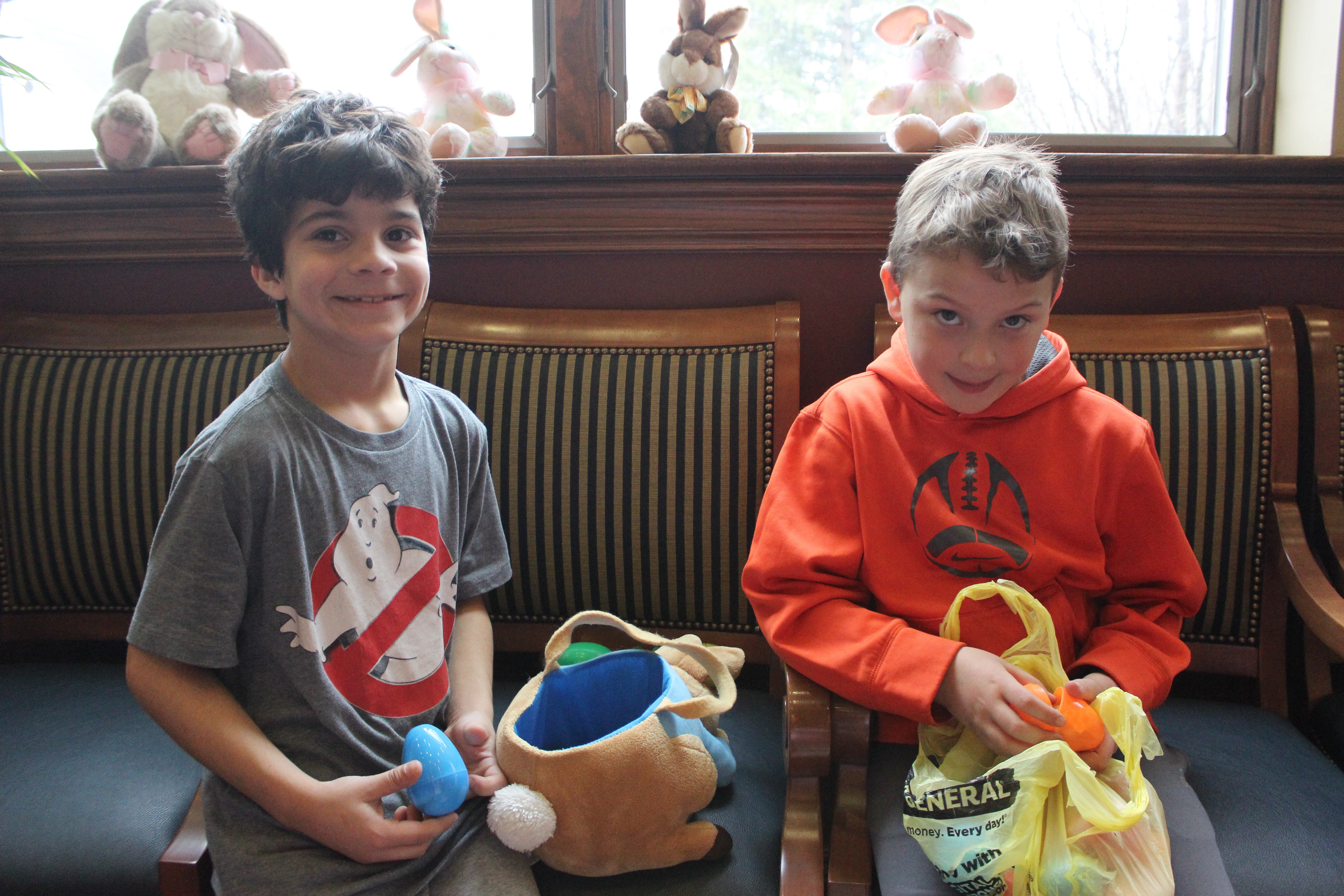 ---
By ABBY SLANKER
The Canfield Presbyterian Church hosted its eighth annual Giant Egg Drop on March 30.
The event included an egg hunt, a puppet show and an egg drop from three heights, with the final drop from a bucket truck.
Children's Ministry Leader Jason Campbell welcomed the large crowd as they enjoyed refreshments provided by the church.
"Good morning, everyone. On behalf of the Christian Education Committee, I'd like to welcome you to our eighth annual Giant Egg Drop. I'd like to thank the many hands that were involved in making this event happen, and would like to recognize, and thank, Davey Tree for bringing their lift truck today for us. I'd also like to thank our Christian Education Committee, our congregation for donating supplies for today, our After School Haven kids for stuffing eggs with candy and all the volunteers who assisted in various ways in the last few weeks," Campbell said.
To start the event, Campbell invited the children to enjoy "The Tale of an Egg" puppet show, After the show, Campbell dismissed the children by tables to the egg hunt.
"Because we have such big, amazing crowd, we are going to dismiss you by tables to the egg hunt. We have the age groups split up to 3 and under, 4-years-old up to second grade and third grade to sixth grade. So follow our volunteers to the more than 1,800 candy-filled eggs," Campbell said.
After the egg hunt, the children went back to the Fellowship Hall to make their egg protection units for the giant egg drop. The children were provided with supplies, including one paper lunch bag, one cup of cotton balls, one Styrofoam cup, one balloon, one 12-inch tape ticket, six toothpicks, five popsicle sticks, four straws, five paper clips, three rubber bands, one 36-inch string, one sheet of newspaper and one baggie.
The children could construct their egg protection units in any way they wanted and could use whichever supplies they wanted. The goal was to build a unit that would contain a raw egg and protect it from drops of increasing heights.
The first drop was from a ladder, the second drop was from a balcony down to the atrium and the third drop was completed outside from the bucket truck. Each time a unit was dropped, the egg was checked for damage and if the egg was split or cracked, it was not eligible for the next drop level.
The hope of all the children who made it to the last level of the giant egg drop was for their eggs to survive, and remain intact, after being dropped from the bucket truck. As a crowd gathered around the bucket truck and the egg protection units were sent high in the sky, the children waited to see if their egg would make it through the very last drop.