Active shooting drill at St. Pat's helped first responders train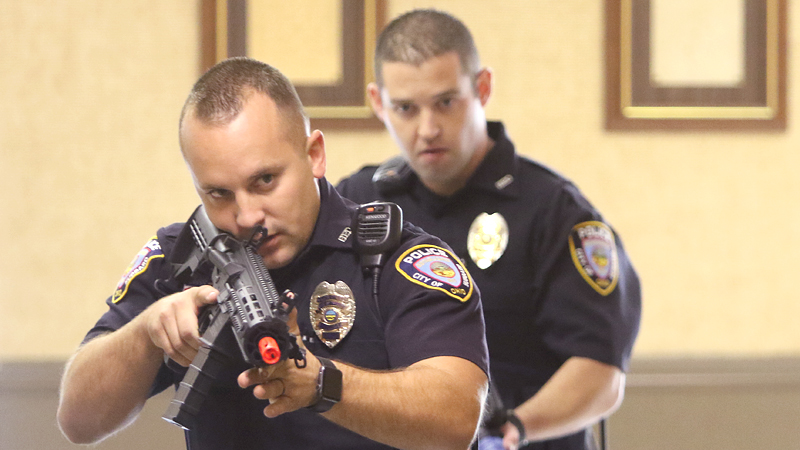 ---
HUBBARD
In the event of a mass shooting, multiple first-response agencies must work together to eliminate the threat and save lives.
The Eagle Joint Fire District, in partnership with the Hubbard city and township police, conducted an active-shooter drill at the St. Patrick Parish on Thursday morning.
The simulated scenario was a mass shooting.
There were more than 60 "victims," played by nursing students from Youngstown State University, Kent State University Trumbull and the Mercy College of Nursing. They were escorted, some by ambulance, to four area hospitals.
The drill was designed to allow first responders to practice triaging victims, which means ranking the urgency of their injuries, and also coordinating between agencies. At the hospitals, the staff practiced handling a surge of patients.
The simulation started with an officer subduing the "shooter," and then three officers secured the scene.
Within minutes, emergency medical technicians and firefighters arrived and began assessing and identifying victims, then coordinated which hospital they would go to.
Some students had realistic, gory makeup to simulate bullet wounds.
YSU nursing student Miranda Hall said the training is important. "For the hospital staff and the people triaging, it's absolutely necessary to know what to do if something like this happens," she said.
Volunteers from the Mahoning Valley Amateur Radio Association communicated with hospital staff on ham radios and alerted them of when the victims were coming. Joe Wojtowicz explained cell phone signals can get jammed after disasters, and that's where ham radio operators come in.
Hubbard officials including Mayor John Darko, school Superintendent Ray Soloman and Liberty Fire Chief Gus Birch attended the drill.
Crisis Response International, Life Fleet EMS and American Medical Response and a Brookfield firefighter with an ambulance were involved.
EJFD Firefighter Michael Kerr, who is also a simulation coordinator at St. Elizabeth Youngstown Hospital, said the groups had a debriefing session after the drill.
"[The drill] keeps us on our A-game and makes people aware we have to have good communication," he said.
Kerr said it's a win for the residents to have their police and fire departments working together.
Hubbard City Police Sgt. Chris Moffitt said it was interesting to see how the scenario played out from different perspectives.
More like this from vindy.com