CVMS seventh-grade football remains undefeated

Photo
Neighbors | Submitted.Canfield seventh-grade football player Scottie Eaton dashed around the left end against Lakeside at the recent game. Canfield was victorious at the game and continued its undefeated streak for the season.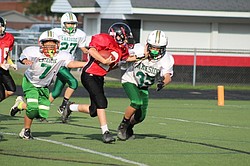 Photo
Neighbors | Submitted.Tyler Eikart, Canfield Village Middle School seventh-grade football player, is pictured running the ball against players from Ashtabula Lakeside.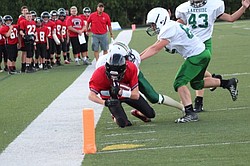 Photo
Neighbors | Submitted.Canfield's Danny Inglis is pictured reaching for the pylon in the game against Ashtabula Lakeside. Canfield was victorious over their opponent 20-0.
The Canfield Village Middle School seventh-grade football team remained unbeaten through three games with a 20-0 victory over visiting Ashtabula Lakeside.
Canfield's defense continued their dominance keeping their opponent out of the end zone for the third straight week.
Canfield's AJ Grohovsky's third down sack of the Dragon's signal caller forced a fourth down punt and Canfield took over on their own 43 yard line. Canfield proceeded to drive 57 yards in nine plays behind the hard running of Tyler Eikert and Scottie Eaton to take a 6-0 lead on a one yard plunge by quarterback Paul Bindas. The Cardinals threatened again late in the first half but penalties hampered their efforts and they entered halftime with a six point advantage.
Canfield took the second half kickoff and drove 65 yards in 10 plays to take a 14-0 lead. The Cards had touchdowns by Eikert and Ben Phillips called back due to penalties before Danny Inglis blasted into the end zone from two yards out and Bindas tacked on the conversion.
Canfield struck again when Lorenzo Rohrbaugh sacked the Lakeside quarterback causing a fumble that was recovered by Vince Luce on the Dragon 28. Canfield went to the air for their next touchdown when Bindas tossed a dart to Scottie Eaton on the first play of the fourth quarter for the final margin. Eikert led all ball carriers with 88 yards on 10 totes while Bindas converted six of nine passes for 97 yards and a touchdown.
Cited for their strong play on defense were Grohovsky, Luce, Rohrbaugh, Santino Cocca, Maddox Newhouse, Colton Tenney and Brandon Kirila.
More like this from vindy.com