Pa. brewing company serves up gourmet beers, burgers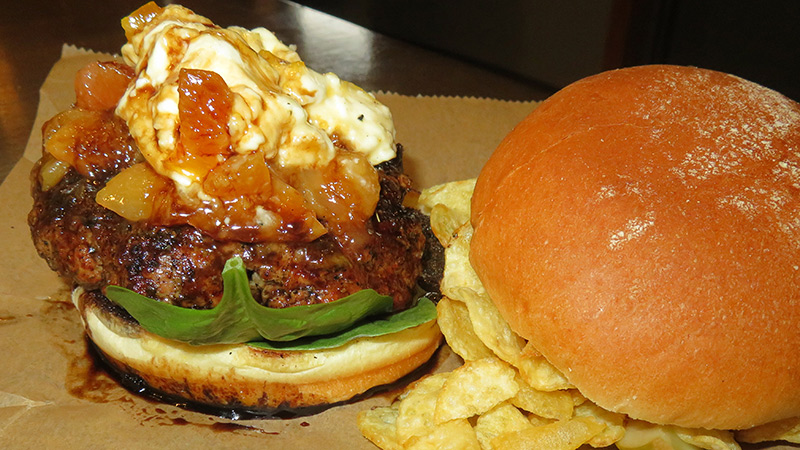 ---
By ANTHONY M. FUDA
BurgerGuyz@hotmail.com
EDINBURG, PA.
What goes well with a great burger? A great, cold beer you say. Well, at Crooked Tongue Brewing you get the best of both worlds.
Owner Cody Greene took his love of home brewing beer – which he has been doing for more than 10 years now – and combined that with a fantastic chef and a place where people can get together and enjoy those excellent burgers with those outstanding beers.
Cody started brewing beer in his parent's garage in 2008. He now has a restaurant/brewery and another building strictly for testing and brewing the creations he starts in his mind.
We made our way to Crooked Tongue and our sense of smell was the first thing to be tantalized by the delightful aroma of a perfectly cooked burger. The smell came from the grill in the back and made us want more.
Upon entering the building we saw the giant hand-written list of beers on the wall and knew we were in for business.
With all these beer choices, we knew we needed some backup. For this review, we enlisted The Vindicator's Flight Crew to help us out with the different beers and burger pairings. If anybody knows which beer goes best with which burger, it's these guys.
But first we needed to choose a burger.
Chef Mike Jessen has free reign over the grill and the menu and knows exactly what he is doing when he creates his burgers each week. That's right, each week he creates a couple different burgers to go with the standard house burger (bacon, American cheese, lettuce, tomato, onion on a Brioche bun). The number of burgers Chef Mike has created can fill the pages of a best-selling novel.
This week he offered a Fire Berry Brie (blackberry jalapeño compote, Brie cheese, spinach on a brioche bun), and a Not Your G'mas Peaches n-Cream Burger (peach cream cheese, caramelized peaches, honey balsamic redux, spinach on a brioche bun). The burgers are sided with a choice of chips, a salad or kimchi (spicy pickled cabbage).
Three burgers and the decision was still a hard one because all three sounded great. If the aroma from the grill said anything, it said we were in for something with an abundant amount of flavor.
And this is one of the finest burgers we have had, infusing the topping flavors with the meat, and a hint of bacon freshly ground into the burger.
I decided on the Peaches n-Cream Burger, and all I can say is "Wow!" It was cooked perfect with a nice pink center. My initial bite was so full of flavor I would have been happy to stop there. But I moved forward and with each bite I found the sweet taste of the caramelized peaches and cream cheese enhancing this already amazing beef.
My stomach kept saying more, more. But the bites kept getting smaller and smaller until it was no longer. I paired this burger with the Peaches N Cream beer, and that made a nice match for my taste buds.
Eric Tranovich saw the burger offerings for this Thursday and quickly made his decision, remarking, "Going with the Fire Berry Brie was a no-brainer, and I can honestly say it's been quite a while since I've had a unique burger with such an amazing flavor. Each bite brought a tear of joy to my eye. The blackberry jalapeño compote gave a perfect blend of sweet and heat, and the Brie cheese that topped this heavenly creation just made everything right with the world, even if just for a short time.
"If every week Chef Jessen is putting out burgers this tasty, then I don't see any reason not to make the hour trip from my home to savor another. I just hope the Hot For Teacher beer I paired with it is still on tap, as that was an experience all of its own."
Flight crew member Dave Shively chose the Crooked Burger and noted, "On a night when the burger professionals were in the house, I opted to pass on the two gourmet burgers on the menu, and kept things simple by choosing their 'house burger.' To my pleasant surprise, there was nothing vanilla about it. This traditional burger, topped with American cheese, lettuce, tomato and onion, was roughly 2 inches thick, and was super savory, juicy and delicious. When paired with Crooked Tongues' Session IPA Lil Jammer, my taste buds were delightfully teased – all night long."
Flight Crew member Joe Sanfilippo had the Fire Berry Brie Burger and said, "I am no expert on pairing beer with food, but what I can tell you is that the Rye Haze and the Fire Berry Brie burger went very well together. The three hops (zythos, Simcoe and chinook) paired well with the jalapeño and blackberries on the burger."
Flight Crew member Brian Long also went with the Fire Berry Brie Burger, and thought, "As if the meat wasn't good enough, by adding the creamy nutty Brie cheese with some heat from the jalapeños and tart blackberries in the compote, I have to give a double thumbs up on a fantastic burger. I could've eaten two."
Flight Crew member Jason Jugenheimer ordered the "Not Your Grandma's" Peaches and Cream, and also said, "Wow! This was a burger exploding with southern charm and flavors. Caramelized peaches and peach cream cheese on a juicy burger paired with a heavily dry hopped Crooked Ways IPA. This combination provided a multitude of flavors on the palate ranging from sweet to salty to bitter and hoppy. Great burger and great beer."
Cody joined us at our table and gave us a little insight on his different beers.
When asked which beer has been his favorite so far, Cody answered with, "The next one." Of course, there is always going to be a next beer as Cody keeps tweaking his beer recipes until he has them exactly the way he wants them.
It's just a short drive past the Pennsylvania border, but it is well worth the trip. Chef Mike knows what he is doing on the grill, and we can't wait to see what he creates next. And we're sure Cody will have a good selection of beers to accompany Mike's burgers.
If you decide to make the venture to Crooked Tongue, they only serve burgers on Thursdays, which is coincidently Burger Night.
Keep reading the Valley food section each Wednesday for the best food the Valley has to offer. If you think you know where the next Burger of the Year is, send the info to BurgerGuyz@hotmail.com, or on our Facebook page BurgerGuyz
More like this from vindy.com