Golfing for a 'great cause'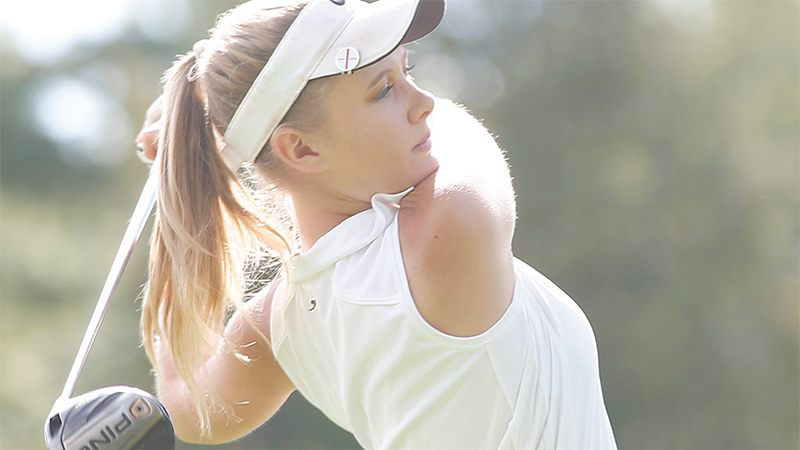 ---
By Greg Gulas
sports@vindy.com
POLAND
Hadley Spielvogel defeated Cardinal Mooney teammate Alexandria Patrone in a one-hole playoff to help the Cardinals win the Division II title at Sunday's 3rd annual Christine Terlesky Lake Club Girls High School Golf Invitational.
The Cardinals shot 359 as a team, outdistancing runner-up Beaver Local (379) by 20 strokes. Beaver Local's McKenna Kyker finished third overall with 87, a stroke behind Spielvogel and Patrone.
Canton GlenOak was tops in Division I with 327, eight strokes better than Poland (335) and 15 strokes ahead of Federal League foe Massillon Jackson (342).
The Golden Eagles' Jessica Hahn shot a three-over-par 73 (36-37) to earn medalist laurels for the second straight year. Teammate Maddie Reemsnyder's 77 (39-38) earned runner-up honors.
Poland's Jenna Jacobson and Massillon Jackson's Anastasia Nikolaidis each recorded 39-39 to finish with 78.

The event is hosted by Boardman High School and named in honor of former golf coach Christine Terlesky, who continues to battle ALS (amyotrophic lateral sclerosis).
The event was moved up a day in anticipation of the rainfall from Hurricane Florence.
"I just had a very good drive on the first playoff hole," said Spielvogel, who registered four on the hole. "I didn't have many of those today.
Patrone ended up with a six but was happy to tie Spielvogel in regulation.
"Even though I lost the playoff, I'm still glad to be here," Patrone said. "It's fun to be playing with my teammates for such a great cause.
"I had a good drive but duffed my second shot and that was the difference."
Cardinals head coach Mary Theresa Bellino said, "My husband, Joe, and I have known both Christine and her husband, Brian, for a long time so it is really special to be a part of this event."
Champion (395) finished third in the seven-team Division II field, followed by Columbiana (408), Struthers (417), Ursuline (453) and Lakeview (463.
Hahn, who will golf for the University of Akron next fall, said it's fun to be a two-time medalist at such a special event.
"I love this course because it is challenging," Hahn said. "The greens are beautiful, yet very challenging. My scores today were a little higher than I had hoped because I didn't have a good day putting. It was a lot of fun and the competition was excellent."
Linda Kubilus, Canton GlenOak coach, said, "I love this tournament because it is so well run.
"We've played all three years and always look forward to it because it is for such a great cause."
Massillon Jackson was third in Division I with 342, followed by Canfield (379), Howland (416), host Boardman (423) and Austintown Fitch (433).
Denise Gorski, Boardman athletic director, commended The Lake Club for hosting.
"Ed Muransky and everyone at The Lake Club has been so great to work with," Gorski said. "Even with the challenging weather forecast, they made sure that we would play and helped ensure that we get this in."
The practice round, which would normally would have taken place on Sunday, was canceled.
Terlesky was unable to attend, but her father, Ron Moschella, expressed his gratitude to all involved.
"This has been really good for Christine and our entire family," Moschella said. "From Ed Muransky, his staff at the Lake Club to Denise Gorski and the teams and participants, this is very humbling and truly most appreciated."
More like this from vindy.com