Beauty on display at Fellows flower show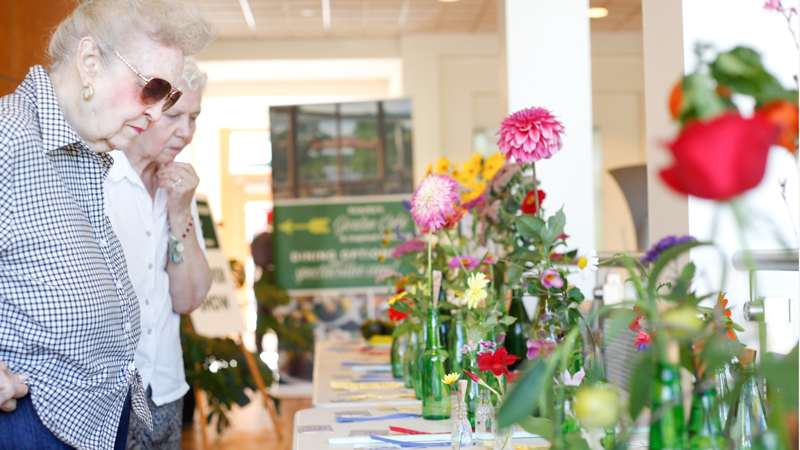 ---
YOUNGSTOWN
The Garden Forum of Greater Youngstown's fall flower and garden show winds up with public viewing of the plants and creations from 10 a.m. to 4 p.m. today at Fellows Riverside Gardens.
Judging for the event was at 11 a.m. Saturday, said Sheila Bowman of Leetonia, a forum board member, coordinator of the 2018 show and an 18-year master flower show judge.
Bowman, who especially likes dahlias, said she has been participating in Garden Forum shows since 1985 when they took place in the Garden Forum Building in Mill Creek Park. The Garden Forum moved into Fellows Riverside Gardens in 2000 when the building was torn down.
The 11-acre Fellows gardens are public botanical gardens included in the Mill Creek MetroParks System at 123 McKinley Ave., off Glenwood Avenue.
Bowman said her parents, who bought a farm in Fairfield Township in Columbiana County in 1960, got her started in gardening and raising flowers. In addition to her Garden Forum duties, she is a member of the East Liverpool Garden Club and Mahoning Valley Dahlias.
In her garden, where she admits her husband, Willis, does the tilling and heavy work, Bowman raises a variety of flowers, including her favorites, dahlias, of which she said there are 19 forms and thousands of color combinations.
There are two broad, main categories in the Garden Forum show: live-cut flowers and design, in which various objects besides flowers are used to create gardeners' visions.
Bowman's Shimmering Sunset, a reflective design, took a First Place Blue Ribbon at the show, and she won Best in Show for her design effort at the 2018 Canfield Fair, a show sponsored by the Garden Forum.
"No," she said with a laugh. "I don't judge the categories in which I compete."
Cindy Salerno of Bristolville received the Blue Ribbon for Dahlias at the Garden Forum show.
Mary Lou Flere of McDonald, a member of Gleaners Garden Club and Girard Herb Society, said the 2 acres that surround her home has 12 species of trees and naturalized daffodils, which means they have spread on their own.
Flere also has numerous varieties of daffodils, Irises and gladioli, and a garden in which pumpkins show up each year.
The retired medical technologist who worked 29 years for the federal government, including at the Veterans Affairs Brecksville Hospital, said gardening was her way of relaxing when she was working.
And she admits she talks to her flowers.
"I tell them to be happy and grow for me," Flere said.
The Garden Forum's fall general meeting will take place Oct. 13 at Fellows Riverside Gardens. Hosted by the Garden Club of Youngstown and the Garden Gate Garden Club of Poland, the meeting is open to the public. The cost is $20 for members and $25 for non-members.
Registration is from 9:30 to 10 a.m. There will be a discussion of programs for 2019, and the morning program is Fall Gardening by Ellen Speicher. The afternoon program is Floral Arranging by Mark Green of Green's Floral.
For information and reservations, call 330-533-5917.
More like this from vindy.com