700 take steps against stigma in mental illness in Youngstown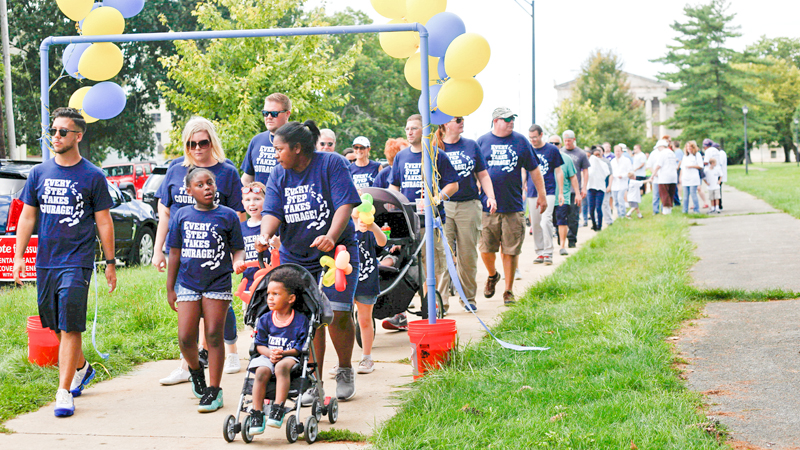 ---
By Bob Jackson
YOUNGSTOWN
People struggling with mental health issues have lived in shadows of shame for too long, said Hope Haney. The Steps Against Stigma Walk on Saturday in Wick Park on the city's North Side, aimed to help them finally step into the light.
Haney, executive director of National Alliance on Mental Illness of Mahoning Valley, said people who deal with mental illness, whether personally or because a loved one is afflicted, often feel as if they're alone in their fight and are too embarrassed to discuss their issues publicly due to the stigma often associated with mental health problems. NAMI offers support services and educational programs to help them find their way through the maze of confusion.
"We are not a counseling entity," Haney said. "We are purely support, so people don't feel so isolated."
The Steps Against Stigma Walk is NAMI's primary annual fundraiser, and this year's event, which was the ninth locally, was the largest so far. Haney said the 2015 walk drew 150 participants. The number grew to 300 the following year, 500 last year, and 700 this year.
Those rising numbers indicate people are becoming more willing to talk about their mental health problems and seek help, Haney said.
"We're working on breaking down that stigma very slowly, through social media and other outlets," she said. "By talking about it and making it public, we can make it easier for others to talk about it themselves."
She said revelations over the past several months that professional athletes, entertainers and celebrities have personal struggles with mental illness have helped bring the issue into the light. Cleveland Cavaliers star forward Kevin Love penned an essay in March 2018 in which he detailed his own battle with depression, anxiety and panic attacks.
And in June 2018, well-known fashion designer Kate Spade committed suicide in her Manhattan apartment.
"Kate Spade's suicide tragically raised awareness about mental health issues," Haney said.
Judge Anthony D'Apolito of Mahoning County Common Pleas Court said he dealt for years with people who have mental health issues. He started a mental health court in Mahoning County Juvenile Court while he was working as a magistrate there. In his position on the common pleas court bench, he oversees the Veterans Court, of which mental health treatment is a large component.
"Mental health issues are the best kept secret in the country," Judge D'Apolito said. "Everyone either has it or knows someone who does, but they don't want to talk about it."
Judge Robert Rusu of Mahoning County Probate Court also sees a steady stream of people with mental health problems in his court. In May 2018, he launched a Fresh Start program in his court to ensure that people who need mental health services are receiving them.
When people are released from a hospital after being "pink-slipped," or involuntarily admitted to a hospital for mental health problems, they are often admitted into the Fresh Start program, he said.
It's a 90-day program administered by the Mahoning County Mental Health Board. Participants appear before the judge every two weeks to discuss their recovery and progress, and the judge ensures that they're taking prescribed medications and following doctor's orders.
"I just want them to know there is somebody out there who cares about them," Judge Rusu said. "We're not letting you walk through this alone."
Before the walk began Saturday, Haney presented a trophy to Jim Pirigyi of Youngstown for his five years of supporting Steps Against Stigma through his participation as a walker and fundraiser.
Pirigyi, 44, said he has struggled with mental health issues for most of his life, but did not want to elaborate. He said, though, he does not let his problems keep him from living a full life. He works in the frozen foods department at Marc's in Boardman, and he loves to get outside and walk.
More like this from vindy.com