Flag ceremony brings in Hispanic Heritage Month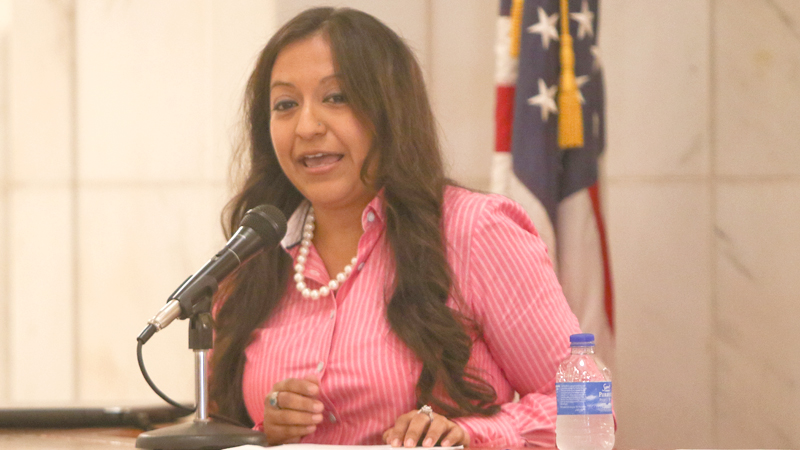 ---
By Justin Wier
YOUNGSTOWN
For Adriana De Los Santos, growing up in Youngstown as the child of Mexican immigrants was like living in two worlds at the same time.
The Chaney grad described playing on the streets of the West Side and going inside where her mother would listen to Mexican music, prepare Mexican food and watch telenovelas.
De Los Santos now works as an animal keeper at the Cleveland Metroparks Zoo where she serves as an example to Hispanic youth.
"I never pictured myself working to be a role model for younger kids, but representation matters," De Los Santos said.
It's important for minority children to relate to the person handling animals on stage, De Los Santos said, because it may allow them to see themselves in the next generation of scientists and problem solvers.
De Los Santos was the keynote speaker at Youngstown State University's opening ceremony for its Hispanic Heritage Month celebrations Thursday at the Mahoning County Courthouse.
The event opened with members of the community parading 22 flags from Hispanic nations including the United States, which has the second-largest population of Spanish speakers in the world, across the Mahoning County Courthouse rotunda.
The month extends from today through Oct. 15 and encompasses the days of independence for eight Hispanic countries.
The event's speakers also included Youngstown Mayor Jamael Tito Brown and YSU President Jim Tressel, who stressed the importance of college students gaining exposure to different cultures.
"As we grow to become a more diverse campus and learn about each other, we can appreciate, respect and spend time with one another," Tressel said. "That's what life is all about."
De Los Santos spoke about her experiences learning about her own culture when she went to Ohio State University for college.
She joined Alpha Psi Lamdba, a fraternal organization for Latino students, to learn more about her Mexican heritage.
"We are better people when we embrace what makes us different and learn we're not that different after all," De Los Santos said.
More like this from vindy.com