CVMS seventh-graders claim 16-6 victory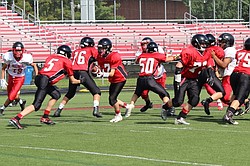 Photo
Neighbors | Submitted.Canfield Village Middle School seventh-grader Paul Bindas (7) handed the ball to Danny Inglis (5) behind the blocks of Alex Hewko (76), AJ Grohovsky (50) and Vince Luce (73).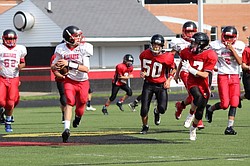 Photo
Neighbors | Submitted.Canfiled Village Middle School seventh-grade football players Paul Bindas (7) and AJ Grohovsky (50) are pictured pursuing the Alliance quaterback.
The Canfield Village Middle School seventh-grade football team opened their 2018 campaign with a 16-6 victory over the visiting Alliance Aviators.
After a scoreless first quarter, Canfield drove 70 yards in eight plays to take a 8-0 lead. A 25-yard dash by Scottie Eaton gave Canfield a first down at the Alliance 25 and two plays later Tyler Eikert burst 16 yards to the Aviator 4. Fullback Danny Inglis plowed into the end zone from 4 yards out and then hauled in a strike from quarterback Paul Bindas for the 2-point conversion.
On the next possession Lorenzo Rohrbaugh ran down the Alliance signal caller and forced a fumble which was recovered by Eaton at the Alliance 47. Inglis sprinted 47 yards to paydirt on the next play to stretch the advantage to 14-0. Bindas again tossed a pass to Inglis for the conversion and a 16-0 halftime lead. Severe weather forced the second half of the game to be rescheduled for the following day.
Alliance struck mid way through the third quarter when they returned a punt 70 yards for a touchdown. Eikert broke up the conversion attempt to keep the the score at 16-6. Both defenses were stout in the second half and Canfield was able to hold on for the win. Inglis led all ball carriers with 88 yards on 11 totes, while Eikert added 64 yards and Eaton added 48 as the seventh-graders piled up 200 yards on the ground.
Coach Donadee cited the stellar play of offensive lineman Alex Hewko, Aj Grohovsky, Rohrbaugh, Vince Luce, Santino Cocca, Nick Beistel and Brady Wilson in being a great factor in achieving the win.
More like this from vindy.com