Blue Devils 'spread' offensive wealth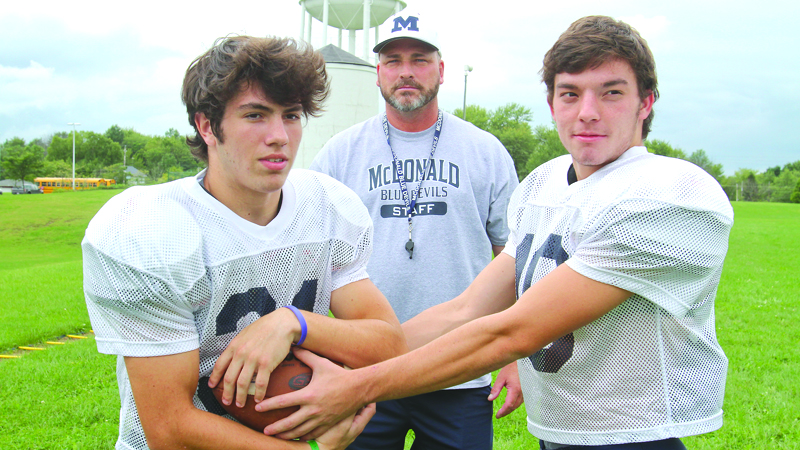 ---
Blue Devils 'spread' offensive wealth
By Steve Ruman
McDONALD
McDonald High football coach Dan Williams knows that the safe route would have been to keep things as they were.
After all, if it ain't broke don't fix it.
Don't mess with success.
Leave well enough alone!
Yet despite the fact that the Blue Devils offense had enjoyed decades-long success while running out of the Wing-T formation, the decision was made in the off-season to transition into a spread attack.
The move was viewed by some as particularly interesting — and risky — given the fact that McDonald returned virtually its entire offense from a year ago. The group averaged 38.2 points per game in 2017, and they did so with a punishing ground attack. Then-junior Alex Cintron rushed for 1,466 yards and had 215 receiving yards while scoring 23 touchdowns. Fellow junior Josh Celli ran for 1,140 yards and 16 touchdowns.
Still, Williams felt as though his system was in a bit of a rut.
"We started kicking around the idea in the winter, we just felt like we were handcuffed at times when bigger defenses would load up nine or 10 in the box," Williams said. "At first, some of the staff was reluctant, others were all in. But the more we weighed things, it seemed like the right thing to do and everyone was on board.
"Some people wondered why we would make the change with a group that had success with the Wing-T, but we just felt like these guys were experienced enough, and mature enough to adapt. This is an intelligent group who we knew would adjust to what was thrown their way."
Indeed, the Blue Devils have not missed a beat with their newfangled style of play.
Through three games, McDonald (3-0) is averaging 48.6 points and 500 yards of offense.
McDonald opened the season with a 48-14 win over Brookfield. A 42-35 victory over Columbiana avenged last year's overtime loss to the Clippers. Last week, the Blue Devils rolled over Champion 56-7.
"The players, I think they were really surprised when we first pitched the idea, they were used to running the same offense since they were in the seventh grade, but they bought in wholeheartedly," Williams said. "Once we started running things in practice, it was almost like there was a rebirth. With the change, there was a new level of energy and excitement."
And, while the offensive formations may look completely different than they did in past years, McDonald is still getting results almost exclusively through its running game. Those 1,500 yards of offense through three games? Well, 1,239 of them have come on the ground. The Blue Devils are averaging 413 rushing yards to just 87 passing yards per game.
As a team, McDonald is averaging an astounding 10.3 yards per rush. Cintron has carried the ball 62 times for 587 yards (9.5 yards per carry) with 10 touchdowns. Celli is averaging 10.6 yards per carry, with 454 yards and five touchdowns on 43 rushing attempts.
Celli, who played the fullback position a year ago, is now the quarterback. He has completed 13 of 22 passes (four touchdowns) for 260 yards.
"People often hear spread offense and think of a lot of passing all over the field," Celli said. "The option to pass is there, but with what we can do on the ground we're always going to be a run-first team."
Celli is playing the quarterback position for the first time in his career.
"I was a little nervous when they first threw this idea by me, but my teammates really had my back and gave me a lot of confidence," Celli said. "Honestly, I'm still learning the position. The offense is a lot more complicated, there's a lot more options than when we ran the Wing-T. The biggest thing is reading the defenses and making quick decisions.
"Luckily for me, I have an incredibly talented offensive line. Without them, this doesn't happen. They give me the time to make things happen. And all of those rushing yards from our offense, that's because of our line play."
To help orchestrate the offensive change, Williams and some of his staff attended a coaches clinic at the University of Cincinnati. The Bearcats are guided by former Ohio State coach Luke Fickell. Among the instructors at the clinic was former Springfield coach Doug Phillips, who is now the running backs coach for the Bearcats.
"It was a great learning experience, you pick up so much about what exactly can be done [in the spread] based on personnel," Williams said. "I think we came back from Cincinnati really confident that we were going in the right direction.
"It's funny, I never used to pay attention to much football on Saturday afternoons in terms of trying to pick up ideas from college teams. Unless Georgia Tech or one of the academies were on television, I didn't see our offense. Now, it's like every game I watch I can pick up something that relates to what we are doing."
Williams said that even though Celli is inexperienced at the quarterback position, his football intelligence, athleticism and leadership qualities helped for a smooth transition.
"Josh is a smart kid, and he has great football instincts," Williams said. "We threw a lot on his plate, but he has responded. He enjoyed the challenge. And as a throwing quarterback, he is still learning. He's improving that aspect of his game each week. His arm can be a weapon."
Like Celli, Williams was also quick to give praise to his offensive line.
"We don't make this change if we don't have the right guys up front," Williams said. "Including our tight end, we had five of six linemen return from last year. It all starts with them. They had to learn a new style of blocking. As a unit they are all of a sudden thrown into a whole new system. But we knew they could handle the change, and man have they responded."
Senior center Nate Dean admits that he was "extremely shocked" when he first learned of the change in the Blue Devils' offensive philosophy. In addition to adjusting his blocking schemes, Dean was also presented with the challenge of snapping to a quarterback in the shotgun formation — something he rarely did until this year.
"We worked on snaps during the summer over and over again," Dean said. "Now it's like second nature. We just take the approach that we go out there and get the job done, we do whatever it takes to get the win."
Getting wins, regardless of style, is all that matters, according to Cintron. While McDonald (15 playoff appearances) historically owns one of the best resumes among all area schools, it has not advanced to the playoffs since 2014. The current senior class has not experienced November football.
Last year, McDonald lost to Columbiana by a point in overtime on a failed two-point conversion. It lost to Western Reserve by five points thanks to an 87-yard kickoff return with 10 seconds remaining in the contest. The Devils finished 10th in the Division VI, Region 21 computer rankings, one point behind eighth-place Columbiana.
"I was a ball boy the last time we were in the playoffs," Cintron said. "The entire offseason, all we talked about was the pride and the history of this program. Us seniors have one more chance to make our mark and add to that history. We have to keep getting better each week.
"We're getting comfortable with the offense. We feel like we've worked out the kinks, but at the same time there is a lot of room for improvement. We have to get better, because we have some big time opponents left on the schedule."
As for the future of the spread offense in McDonald? Well, it looks as though it may be here to stay. Williams said that even before he committed to the spread, he studied the junior high program to make sure it had athletes capable of running the system. For now, the new style of offensive football has claimed another victim for fans of old-style football.
"I don't know that we've really changed that much," Williams said. "We still do what we've always done in the past, just with a different look."
And with the same successful results.
McDonald will look to push its record to 4-0 tonight when it hosts Waterloo.