UPDATE | State Report Card shows some Valley schools making progress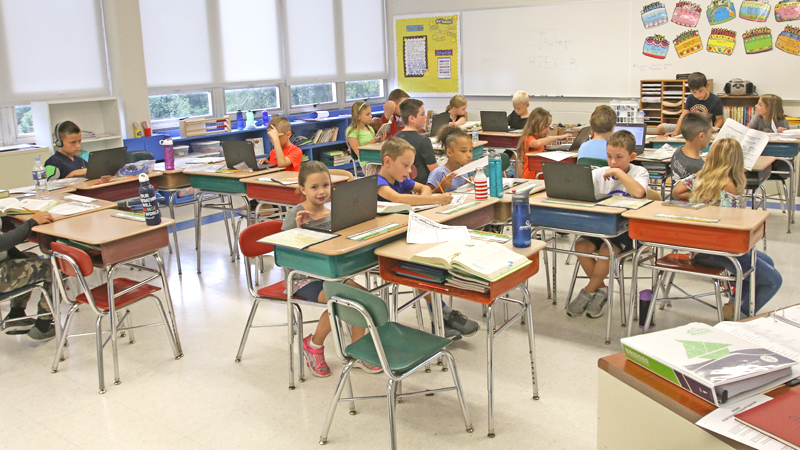 ---
By AMANDA TONOLI
and JESSICA HARDIN
news@vindy.com
YOUNGSTOWN
Valley Report Card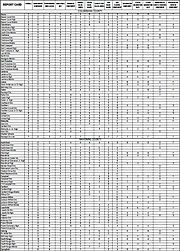 Document
Columbiana, Mahoning and Trumbull County school districts, school building grades for 2017-18.
No Mahoning Valley school district earned an overall A grade on the 2017-18 Ohio Department of Education State Report Card, but some school buildings earned A's.
South Side Middle of Columbiana, Southeast Elementary of Salem, C.H. Campbell Elementary, Canfield High and Canfield Village Middle, all in Canfield, and Dobbins Elementary and Poland Union Elementary, both in Poland, earned overall A building grades.
Looking at the report card letter grades given on a school-by-school basis is something Paolo DeMaria, Ohio's superintendent of public instruction, encourages. "The district might have one level, but some schools within [that district] do better than others," he said.
Youngstown City Schools is one of 14 school districts – of 608 total – in the state that earned an overall F grade. The district operates under Ohio House Bill 70, which put CEO Krish Mohip, overseen by a state-appointed academic-distress commission, in control after years of academic decline.
"This report card gives us the baseline year," Mohip said. "It takes years – generally between five and seven years – for transformation work to manifest in student performance. We will get there. This latest report card shows we're moving in the right direction."
But Brenda Kimble, president of the advisory-only Youngstown Board of Education, said Mohip's restructuring has been ineffective. "You hire ineffective employees and they don't know what they're doing and it shows. ... It shows that one person with no accountability should never happen."
Youngstown Early College, however, stands out in the district with an overall B grade.
The overall grade measure for districts is new this year.
The report cards show districts' and schools' scores for six main components in addition to the overall grade for the 2017-18 school year. The six are Achievement, Progress, Gap Closing, Graduation Rate, K-3 Literacy and Prepared for Success. Within each component, the ODE has given letter grades for many individual measures.
The overall grade comprises 20 percent of Achievement; 20 percent of Progress; 15 percent of Graduation Rate; 15 percent of Gap Closing; 15 percent of K-3 Literacy; and 15 percent of Prepared for Success.
Several school districts brought up their Gap Closing grades, which show how well schools are meeting the performance expectations for vulnerable students in English language arts, math, graduation and English language proficiency.
Poland, Canfield, Boardman and Austintown brought up their 2016-17 grades in 2017-18 from a B to an A, a B to an A, an F to a D and a C to a B, respectively.
Some districts brought down their K-3 Literacy grades. The K-3 Literacy grades look at how successful schools are at improving at-risk K-3 readers.
Canfield, Austintown and Youngstown brought down their 2016-17 grades in 2017-18 from a B to a C, a C to a D and a B to a D, respectively.
Mohip said the drop was caused by a change in tests.
"We switched to a nationally normed test," last year, Mohip said. "The test we're using now is more rigorous and the data more accurate."
Poland earned an overall B grade, made up of three B's, two A's and a D. Last year, Poland earned one A, three B's, one C and no score in K-3 Literacy. The district earned a B in K-3 Literacy this year compared to last year's lack of a score in that category.
Poland's score went down in the Prepared for Success measure from a C in 2016-17 to a D in 2017-18.
David Janofa, Poland superintendent, said: "Sometimes you have to decide between getting a good grade or servicing the students. We do have areas we need to refine, but other areas are cases where we accept what we can't change and move on."
Canfield also earned an overall B grade, made up of to two A's, two B's and two C's. Last year, Canfield earned one A, four B's and one C.
Alex Geordan, Canfield superintendent, said: "While we realize the report card is only one area that evaluates our success, we will continue to collaborate with faculty, students and the community to continue this trend."
Boardman earned an overall C grade, made up of two A's, two C's and two D's. Last year, Boardman earned one A, three C's, one D and one F. The district brought up its Progress grade from an F to a D.
Austintown also earned an overall C grade, made up of one A, two B's, two D's and an F. Last year, the district earned one A, one B, two C's and two D's. The district brought down its Prepared for Success grade from a D in 2016-17 to an F in 2017-18.
Youngstown earned an overall F grade, made up of two D's and four F's. Last year, Youngstown earned one B, one D and four F's.
"Scores don't lie," Kimble said, adding she hopes they affect Mohip's future in the district. "Hopefully Gov. [John] Kasich will look at this and rethink the decision on HB 70. Maybe the next person will see through this mess."
John Richard, Youngstown Academic Distress Commission chairman and Ohio's deputy state superintendent of public instruction, said: "I'm glad that there are some bright spots in the district. However, we have not discussed the report card as a commission body," he said. "When we do so, the focus of our attention will be on areas of the district's strategic plan that have a more direct impact on the report card grades, and how best to support those areas. There is, obviously, much more work to be done."
Mohip added: "Obviously, an overall F is not what anyone wants to see – we still have a long way to go – but I'm pleased with the progress we're making, and I believe next year's report card will be even better."
More like this from vindy.com