YSU football's McNutt serving a five-day unpaid suspension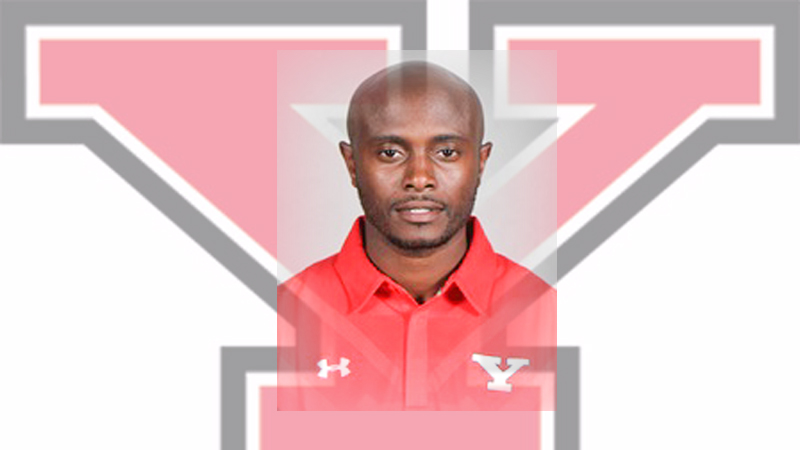 ---
YSU Report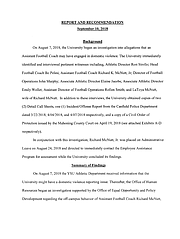 Document
Richard McNutt, a Youngstown State University assistant football coach, violated no university policy after allegedly engaging in a domestic violence incident in April, a report from the university concludes.
By AMANDA TONOLI
atonoli@vindy.com
YOUNGSTOWN
A Youngstown State University assistant football coach violated no university policy after allegedly engaging in a domestic violence incident in April, a report from the university concludes.
Still, Richard McNutt, co-defensive coordinator, is serving a five-day unpaid suspension following the internal investigation as a condition of his continued employment.
McNutt's suspension started Monday and ends Saturday.
During this time McNutt will participate in training, programming and professional development per the University Assistance Program.
An investigation into allegations that McNutt may have engaged in domestic violence was launched Aug. 7, according to a university report.
"In conjunction with this investigation Richard McNutt was placed on administrative leave on Aug. 24," the report says.
The investigation demonstrated that McNutt "generally informed" several staff members, including Athletic Director Ron Strollo and football Coach Bo Pelini about "his marital issues, his ongoing divorce, and conflicts between him and his wife regarding child visitation," according to the report.
McNutt also informed Jim Tressel, university president, of the "possible breakdown of his marriage," the report says.
The report says Strollo, Pelini and Tressel encouraged McNutt to avoid conflicts with his wife and to focus on his work.
The report also states that while the athletic department was aware of McNutt's marital issues, "The University had no indication of any possible domestic violence issues involving Mr. McNutt, until self-reported in early 2018."
The self-reported incident occurred on April 7 in Canfield.
According to a police report, police were dispatched to McNutt's estranged wife's home to pick up his children for visitation.
An argument ensued and McNutt slapped a phone from his wife's hand and later squeezed it when he noticed her recording him getting physical with one of his children, according to the police report.
The police report says the wife showed officers her hand "which appeared to have small scratches" and appeared "slightly swollen."
McNutt's wife was informed that if she filed criminal charges, McNutt could lose his job which would risk her children not having health care and additional benefits.
No criminal charges were filed against McNutt.
After review, the university report says there were "no clear violations of university policy, contract language or law regarding university personnel."
The university issued the following statement: "Youngstown State University Assistant Football Coach Richard McNutt Jr. was placed on paid administrative leave on Aug. 24 pending an internal university investigation in response to a report of alleged domestic violence. [On Tuesday] YSU released a report on the investigation. As a result, McNutt will serve an unpaid suspension from Sept. 10 to 15, 2018, including the third football game on Saturday, Sept. 15. McNutt also will continue to complete a course of training and professional development as part of the university's employee assistance program.
"YSU remains committed to creating a culture across the campus community in which violence of any kind is not tolerated. When such incidents do occur on or off campus, the university must hold itself, its employees and its students accountable. The university pledges continued diligence and fairness as we work for a safe, inclusive and respectful campus community environment."
McNutt is in his fourth season at YSU. He previously served as an assistant at North Carolina State, Kent State and Northern Illinois.
McNutt played defensive back for Tressel at Ohio State before chronic ankle injuries ended his playing career in 2002 and spent the rest of his college career as a student assistant with the Buckeyes.
When asked about McNutt's status at his weekly news conference on Tuesday, Pelini said, "It's a personnel matter," and referred comment to the university.
Contributor: Sports reporter Brian Dzenis
More like this from vindy.com