Tree planting at new fire station connects elementary students to 9/11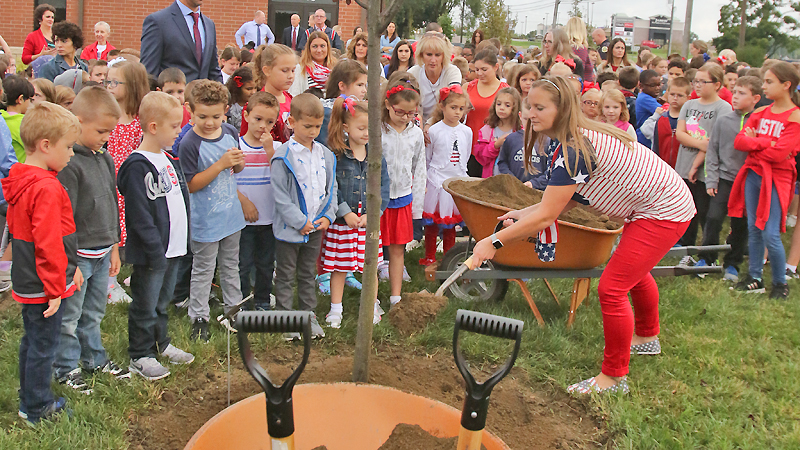 ---
By JESSICA HARDIN
jhardin@vindy.com
BOARDMAN
Stadium Drive Elementary students were all born after the Sept. 11, 2001, terrorist attacks, but a tree they planted will connect them to the nation's memory of this tragedy.

Tuesday morning, elementary students joined members of the Boardman fire and police departments at the new fire station for the planting of a purple plum tree. During the ceremony, the high school pep band played.
The annual event previously took place at the school, but it was moved to the new station this year to honor the safety forces who died 17 years ago in New York City.
The station is also the future site of a memorial for first responders.
After the pep band played the national anthem, police Chief Todd Werth asked the children, "Everyday on the bus, you can look at the tree. What's going to happen to it?"
"It will grow!" they shouted.
Vickie Davis, a school board member who works at the fire department, explained the decision of honoring the day with a tree planting.
"It's tough tying them [to Sept. 11] because kindergartners through seniors were born after, so we try to find some type of connection, and they can see it grow," she said.
This particular tree was also chosen for its colors. "It has maroon leaves and will have white flowers, which are Boardman's colors. We picked this corner so the kids can see it on their way to school," Davis said.
Stadium Principal Michael Zoccali hopes the tree's location will help children understand 9/11 in terms of that day's heroes.
"In all the tragedy and despair that took place on that day, it's important for these children to realize the heroes that came during that event," Zoccali said. "It's important for our children to realize that police and fire and first responders are here to protect them and help them. They're the ones running into burning buildings when everyone is running out."
More like this from vindy.com