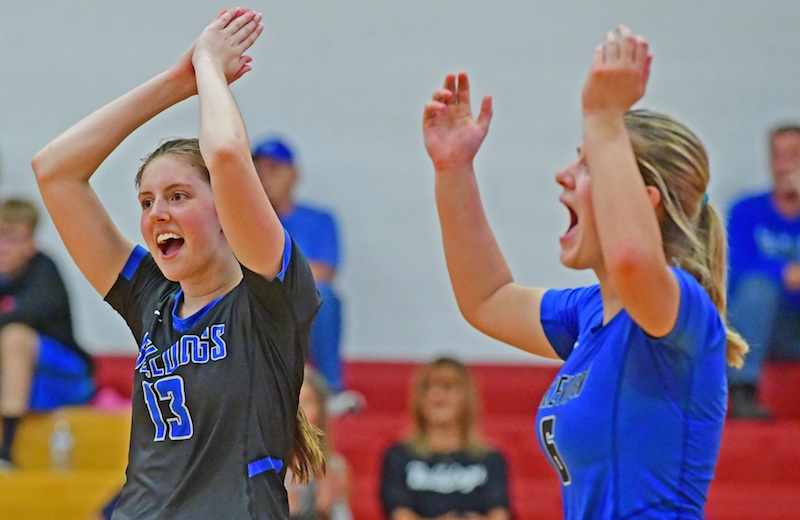 ---
By BOB ETTINGER
sports@vindy.com
YOUNGSTOWN
Lakeview volleyball coach Heather Guthrie felt her team needed to be reminded of a couple of things between the second and third games of Monday's battle with Cardinal Mooney.
The information reached its intended audience as the Bulldogs pulled away for a 25-23, 15-25, 25-18, 25-20 victory at Mooney High School.
"I thought in Game 2, we got very frustrated because we kept getting dug," Guthrie said. "[Mooney is] a solid defensive team. I told the girls not to get frustrated and stay focused."
With the match tied at a game apiece, the Bulldogs (5-1) heard their coach loud and clear.
"We knew we had to be mentally focused," Lakeview setter Lexi Inman said. "Coach talked to us in the huddle about it being important to outsmart our opponent."
The Bulldogs opened the third game with a 5-1 lead behind a tip kill and an ace from Inman to go with a pair of Mooney miscues.
After a kill from Kayla Beil, two more Mooney misplays and a pair of aces from Hayley Lytle, the Bulldogs pushed their advantage to 10-2.
"The only thing I can tell you is don't take anything away from Lakeview," Mooney coach Tony Gorvet said. "Their setter [Inman] killed us and their outside hitter [Lytle] killed us. They're a good team and they showed up and played."
The Cardinals (7-4) closed to within 17-16 following a block from Raegan Filipowicz and a kill by Katie Hough.
But two more Mooney errors and a kill from Bianca Naples put the Bulldogs in the driver's seat at 23-17.
"We were just mentally strong," Lytle said. "We moved fast and we kept the talking up, so we trusted our teammates."
In the final game, Lakeview turned a 4-3 deficit into an 8-4 lead behind two tip kills from Inman, an ace from Lytle and a kill by Beil.
The Cardinals used an ace from Sydney Reider, three Lakeview errors and a kill by Hough to take a 10-8 advantage.
Kills by Naples and Lytle and a slew of Mooney mistakes moved the Bulldogs back in front, 17-13. An ace from Inman, two kills from Lytle and Lakeview held a 21-16 lead. Consecutive kills from Lytle, Lyndsey Sexton and Beil made it 24-17.
"Hayley and Lexi are our leaders," Guthrie said. "When they play with a lot of intensity, it makes the other girls play with a lot of intensity.
"Their leadership feeds to the other girls and they become confident in their abilities as well."
The Bulldogs took the first game after trailing, 21-19. Kills from Anna Peterson, Inman and Lytle put Lakeview ahead, 24-21, and a kill from Sexton closed it out.
Mooney rebounded to take the second game after falling behind, 14-13. Filipowicz had a block, C.J. Sapp scored an ace and Megan Petty had a pair of kills.
Lytle paced Lakeview with 16 kills, four aces and 22 points, Inman had 33 assists and Casey Sanford added 30 digs. Naples had two blocks.
Hough had 15 kills and 17 digs to lead the Cardinals while Marissa Landers had 32 assists and 22 digs, Sapp chipped in with 28 digs and Petty had 10 kills and 14 digs. Filipowicz had six kills and four blocks.
More like this from vindy.com