Don't put spine health on the back burner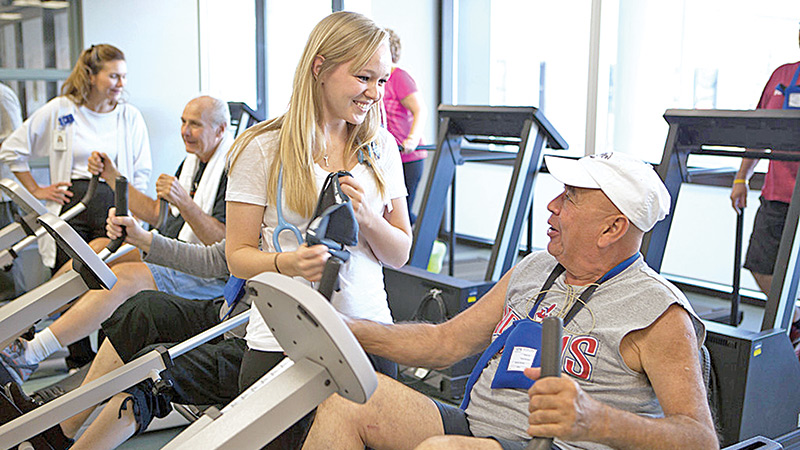 ---
The mission of Mercy Health has remained steadfast since the Sisters of the Humility of Mary began providing health care services more than 100 years ago. Mercy Health's core values of compassion, excellence, human dignity, justice, sacredness of life and service are upheld at all of our care locations, blending pioneering technology and innovative equipment to provide the best care possible.
Visit mercy.com for more information or to find a doctor, location or specialty.
Oooh! Aghhhh!
Ever make those sounds, like when you bend over to pick up your morning newspaper? Or when you turn your head too suddenly when something startles you?
Back and neck pain is a far-reaching problem that no demographic is immune from. The painful truth is that it can affect virtually anyone.
Here are some spine-chilling back pain facts:
•Lower back pain is the single leading cause of disability worldwide.
•Back pain is one of the most common reasons given for missing work.
•One-half of all working Americans admit to having back pain symptoms each year.
•Americans spend at least $50 billion each year on back pain remedies.
Spine health is an important part of one's daily life. If you're having pain, don't neglect seeking treatment for fear of being prescribed back surgery right out of the gate. Many types of less-invasive treatment options exist that can be tried first.
To battle those pesky snaps and cracks, you need to understand all the options available to provide relief.
"Patients should first seek out conservative and preventive methods of healing to maintain a healthy spine," said Diana Kelly, spine navigator, Mercy Health – Youngstown. "Eighty percent of patients who walk through our doors with back pain do not require surgery."
But if surgery is necessary, Mercy Health – Youngstown offers a comprehensive spine surgery program offering cutting-edge techniques and neurosurgery expertise from neurosurgeons Drs. Kene Ugokwe and Daraspeet Kainth, and their physician assistants Heather Rapp, Paige Austin and Craig Morrison.
Conservative methods range from physical therapy, aqua therapy, acupuncture or massotherapy to good old-fashioned heat and ice. An emphasis on proper nutrition and exercise are also key in taking care of your back. Surgical intervention should only be sought out as a final alternative.
And as much as back pain can limit you physically, it can also wear on your mental health.
"Behavior, along with social and personal relationships can all be negatively affected by back and neck pain," Kelly said. "As you seek treatment, you should deal with the mental aspect in parallel with the physical ailments."
Mercy Health uses a "start-to-finish" approach in dealing with spine health by offering a full continuum of services that range from diagnosis, through conservative or surgical options, to post-op care. These include the recent addition of two pain management physicians for spine services – Drs. Maged Fouad and Marissa Wynne, along with inpatient and outpatient rehabilitation services.
This wide array of treatments get your back on the right track.
In an effort to educate the Mahoning Valley and promote October's Spine Health Month, Mercy Health will be hosting a community spine education event from 5 to 8 p.m. Sept. 26 at the Metroplex Expo Center, 1620 Motor Inn Drive, Girard. The "We've Got Your Back" event will offer attendees the opportunity to learn about pain management and the steps they can personally take to improve their spine health.
Speakers from neurosurgery, pain management, physical therapy and psychology will discuss the importance of understanding a spine diagnosis and treatment options available. Vendors will also be on-site promoting spine health alternatives. Attendees will be able to ask questions of an expert panel at the end.
To learn more about "We've Got Your Back,"contact Diana Kelly at 330-480-2319. For more information about spine health diagnosis and treatments, visit mercy.com.
More like this from vindy.com