AD has a rosy outlook at YSU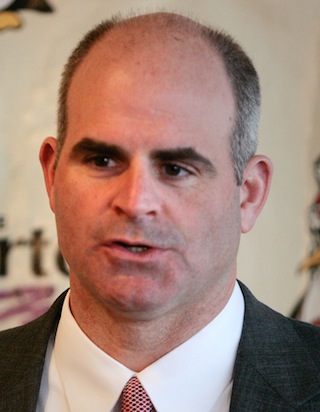 Photo
By Greg Gulas
sports@vindy.com
BEAVER TOWNSHIP
Despite their 0-2 start, Youngstown State University Athletic Director Ron Strollo feels his football team made strides on Saturday in a 52-17 loss to West Virginia.
The game netted the athletic department a $550,000 payday.
Speaking to the Curbstone Coaches at Avion Banquet Center on Monday, Strollo told the group that he's excited with the direction of the other fall sports teams and is looking forward to winter competition as well.
"We definitely improved this past weekend at No. 15 ranked WVU and that came against one of the more talented FBS teams we've played in recent years," Strollo said. "We just need to keep getting better."
YSU will be at home against Valparaiso on Saturday, then take a week off before playing at Western Illinois on Sept. 29.
"We need the fans to come and show their support because this is our last game at home this month," Strollo said.
Strollo cited success this fall for YSU's women's soccer and volleyball teams.
"Brian Shrum is in his first season as our soccer coach after serving as associate coach at Duquesne University," Strollo said. "Aline Scott is also doing an excellent in her first season as volleyball coach.

"We've played in three tournaments, won two and just beat George Mason University in a tournament."
The YSU cross country teams, one of the best in the Horizon League, are once again a force.
"We red-shirted quite a few players on our men's team last year," Strollo said, adding that YSU won the University of Akron's Tommy Evans Invitational for the first time. "Our women's team has a ton of talented freshmen and sophomores and they finished fourth, so it was a great weekend for them as well."
Strollo said construction has begun on Stambaugh Stadium's east stands, which will house the Don Constantini Multi-Media Center. A $2 million renovation to the Beeghly Center natatorium was just completed.
"We've already started to break concrete on the multi-media center and anticipate that it be opened at the end of spring semester," Strollo said. "Renovations to the natatorium include a new filtration system, new decking, lighting and scoreboard."
Strollo said he expects Jerrod Calhoun's second season as men's basketball head coach to go better.
"While the first year is always hard, it becomes a little easier each year," Strollo said. "There already seems to be a team chemistry developing."
"John Barnes has done an excellent job with our women's program," Strollo said. "We have Sarah Cash back and [the women's team] will be very competitive in the Horizon League.
"This is the third year for our bowling team and head coach Chelsea Gilliam, who had us in the Top 25 two years ago returns while swimming coach Ryan Purdy, who is in his second year, is set to work with his first true recruiting class."

The men's basketball program has money games set for West Virginia, Pitt and Ohio State University with $80,000-$90,000 guarantees attached.
Strollo said the game with the Mountaineers is a two-for-one deal in that WVU will return in 2019-20 to play YSU at the Covelli Centre, then has YSU returning to Morgantown in 2020-21 to complete the contract.
The Curbstone Coaches presented Strollo a check for $2,000.