Matt Arnold made sure the newspaper looked great and read straight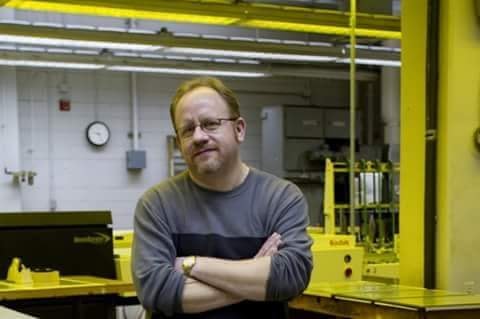 ---
One step to ensure a quality Vindicator is the nightly page proof.
The A1 copy editor sends images of the pages to myself, Editor Todd Franko or Graphic Arts Director Robert McFerren as an extra check on quality.
Most often over the past decade, that task fell to Matt Arnold, and he sent the proof to me.
Matt died last weekend after a long illness, leaving behind a staff devastated by the loss of a friend, trusted co-worker and one of the best danged A1 editors I've met in my 36 years in the business.
Matt loved "danged." He also loved to create pages that popped, featuring headlines that were clever, informative and, often, mini works of art in their own right.
So much so, his headlines were judged as best in the state in 2017.
We fussed over the pages, the art play, the context, breaking news and a punmanship one-uppance that I was convinced would never end.
In the fall, our musings turned to what Matt referred to as the "Killer B's" – his Ohio State University Buckeyes and Cincinnati Bengals and my Chicago Bears. Sometimes, too, his Ohio University Bobcats. Matt's practiced politeness would only turn a bit salty when he would refer to the enemies: University of Michigan, Pittsburgh Steelers and anyone else who might best his "Bungles."
Matt's 53-year life featured a variety of health and personal battles that he shared with his Vindicator family. Just last October he texted me: "Great news chief ... clean bill of health ... praise God ... see ya tomorrow night!"
By January, however, he faced new health issues and a lengthy leave. The first sign this was more serious than first imagined was the gradual fall off of our texting.
In August, I got an emoji response to my faux-dramatic protest of the "cheating Bengals" who beat the Bears in a meaningless preseason game.
Then, he was gone.
But not forgotten.
We asked staff members who knew Matt best to share some thoughts.
Kellie Jones Copy Editor/DESIGNER
After 28 years of working with Matt, I honestly believe this job was where he was meant to be. His Athens County roots and Scripps School of Journalism education [Ohio University] groomed him to be hard working, detail oriented, cool and collected on deadline and happy with being behind the scenes, making others look good.
His sense of humor kept us laughing; his sense of calm kept us going. "Jonesy," he'd say, "don't worry about what you can't change."
We used to talk about our high school days in Athens County (I'm from Athens, but he was from Coolville – and when you say that, you have to say, "Cooooooolville" like you're saying "Sooooooooul Train.").
He told me he used to DJ the after-game dances. That way, he could always avoid having to ask anyone to dance. It's no surprise he liked being behind the scenes back then.
Matt was the ultimate team player – at the paper, at game night, or when helping friends.
While I do smile at the many memories, I just wish we didn't have to say goodbye so soon.
Tom Williams Sports Reporter
Matt Arnold was sports editor from 1995-99. Unlike some in the sports department (OK, me), Matt had a quiet sense of humor. So when he delivered a joke, it hit home.
He zapped me on Jan. 29, 1996, the morning after Super Bowl XXX when the Steelers lost to the Cowboys in Tempe, Ariz. It was my first time covering a Super Bowl and my nerves were in overdrive.
I wrote five stories during the night. Back then, The Vindicator was an afternoon paper, which meant the sports editor started work at 4:30 a.m.
We used Tandy computers that needed to be coupled to a telephone receiver, then transmitted each story long-distance one line at a time.
I called Matt to make sure they were in his hands. (It was 2:30 a.m. in Arizona, 4:30 a.m. in Ohio).
"Did you send?" he asked, very seriously. My heart nearly stopped, and I'm sure I gasped.
Then he chuckled and said, "They're here – great work."
In recent years, Matt would still come over near the end of his shift and look at sports proofs. He valued hard work, and he didn't mind sharing. He was generous with compliments.
We miss him so much.
Ernie Brown Regional Editor
Matt was an excellent copy editor and a top-notch headline writer. We spent many hours talking about the Buckeyes. It always amazed me how a graduate of Ohio University knew so much about the football tradition and games involving Ohio State.
Matt and I also talked many times about our Christian faith, and how our love of Jesus Christ got us through the tough times in our lives.
Matt had prayer with me when I was diagnosed with prostate cancer. I had prayer with him when he told me about his cancer. He was a man of faith, a great family man and one of the best colleagues with whom I ever worked.
Tom Wills Regional Editor
It makes me even more sad to write these notes in past tense.
Matt was our finest wordsmith, yet still called me over at night to check a headline, tweak a story lead or verify a fact. He had a magnificent eye for catching gaffes. I was honored to be relied upon by him.
We both loved music, and he turned over some of his old albums to me. Maybe that's why he accepted my lack of interest in all things football.
I drew portraits of his daughter Jennifer, his dog Chewey, and one of Matt and Lorie as a wedding gift. He'd send me restaurant gift certificates at Christmases to acknowledge these pieces and what they meant to him. Really it means more to me that my work is displayed in his home - present tense.
Bob Yosay Chief Photographer
Matt was one of those rare individuals with whom you work that becomes an instant friend, too. We had a common bond in our Buckeyes, and it won't be the same watching them without him on the other end of a text message.
Matt was one of the most competent journalists I have ever worked with. He could take 15 live stories and art and make the best damned readable page that looked like he had worked on it for hours instead of just minutes.
To watch him work was a joy and an inspiration. Matt is one of the few that truly had ink in his veins. He shared his knowledge and joy with everyone around him.
Robert McFerren Graphic Arts Designer
Matt was as kind, thoughtful and caring of person as you can ever hope to meet. Even though he had many difficulties in his life, his concern was always for others and the newspaper.
Matt was diligent and detailed in his work, always wanting to make sure all stories were accurate while meeting all deadlines. He pored over story details like the master wordsmith that he was.
Matt may not have been the face of The Vindicator, but he was the backbone.
He was our safety net who caught our typos, reworded our work to make our product as good as it could be. He was a great editor, designer and most of all, friend. He will be missed.
Rick Logan Designer/Editorial Writer
Having worked closely with Matt over the past 20 years, I can honestly say he was not only a trusted, faithful friend but one of the most talented journalists in our newsroom and beyond.
Matt was an exemplary team player. We'd often huddle over each other's computer screens to solve an editing quandary or make a headline shine.
I admired his strong work ethic and his passion for accuracy. On many days, he'd smile broadly when I had the good fortune to tell him upon his arrival that we had made it through another day without a correction for any error that creeped into the newspaper.
Jeremy Harper
Copy Editor/Designer
We often hear people described as "one of the good guys." Matt Arnold was one of the great guys. He was a great father, a great husband, a great coworker and a great friend.
His work ethic was unparalleled, and he took pride in what he always referred to not as his job, but his "craft."
What I'll always remember about Matt is not the work he did at The Vindicator – and it was masterful work – but the relationships he built with those of us who were fortunate enough to work with him.
From my perspective, Matt didn't have acquaintances. If he knew you, you were a friend. Whether you worked with him for decades or you were an intern, he treated everyone the same – with kindness and respect. Through simple acts such as offering to buy you a pop or taking slices of pizza to workers in other departments, Matt was always thinking of others.
When the Steelers faced the Seahawks in Super Bowl XL, Matt suggested we get together to watch the game. We weren't friends outside of work at the time, and being a Steelers fan, I was a little unsure about watching a Steelers Super Bowl with a Bengals fan. But he assured me he'd be rooting for the Steelers. When he arrived at my house for the big game, the Bengals fan and lover of all Ohio sports was decked out in a Steelers jersey, and he rooted for the Black and Gold right alongside me. And later, he gave me the Steelers jersey. That's just the kind of person he was – always thinking of others.
Having shared countless inside jokes with Matt over the years, it's only appropriate that I end with one that would make him chuckle ...
–30–
More like this from vindy.com