WVU trip too steep for Penguins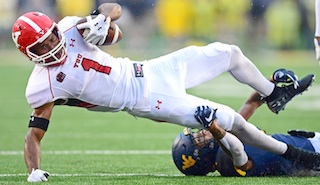 ---
YSU v. WVU football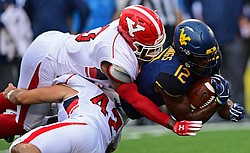 Gallery
By BRIAN DZENIS
bdzenis@vindy.com
MORGANTOWN, W.VA.
Bo Pelini saw improvement out of his Youngstown State football team, but it wasn't enough to stand up to the might of No. 14 West Virginia as the Mountaineers handed the Penguins a 52-17 loss.
Youngstown State is 0-2 for the first time since the 2008 season under Jon Heacock.
Pelini is 0-2 for the first time as a head coach, but there wasn't much anger at that development.
YSU was simply outplayed by the FBS team with College Football Playoff aspirations.
"I knew our margin of error wasn't big going in and we hung in there for a while," Pelini said. "We had some opportunities early.
"We created third downs [on defense], but we didn't get off the field and that made for longer drives than I liked," Pelini said. "On offense, we didn't play great, but we didn't play awful.
"Our kids fought, they fought to the end. I told them it's time to move forward and get better. I think we still have a chance at being a really good football team."
WVU (2-0) ran 75 plays for 625 yards. West Virginia quarterback Will Grier — a Heisman trophy candidate — had a slow start as he was intercepted by Will Latham in the first quarter and took a sack from Wes Thompson. He started to find his groove as the game went on.
Grier linked up with receiver Gary Jennings three times for three touchdowns and finished 21 for 26 with 332 yards and four scores.
The first two Grier-to-Jennings scores came in the second quarter and a third came on the opening drive in the third quarter.
Jennings finished with six catches for 97 yards to go with his three TDs. Running back Leddie Brown led WVU with 115 rushing yards and a touchdown.
YSU was down 21-7 at the half, but couldn't keep up.
Montgomery VanGorder threw a 2-yard touchdown pass to tight end Miles Joiner for the Penguins' first points.
Tevin McCaster added a 13-yard rushing touchdown in the third quarter, then Zak Kennedy made his first field goal of the season with a 45-yarder in the rain.
Wideout Zach Farrar was a bright spot for the Penguins with a career-best six catches for 135 yards as the only receiver with more than one catch.
McCaster piled up 70 yards on the ground.
VanGorder was 11 for 24 for 157 yards with a touchdown and an interception.
"I thought as an offense, we took a step forward. I loved the way we competed, especially up front. [Farrar] played really well," VanGorder said. "We thought they would be softer on the corners, but they pressed and we used it to our advantage.
"We still have things that we can clean up, but we can do special things. I thought as an offense, we stepped up."
Defensively, strong safety Crispin Lee had a career-high 14 tackles as he started in place of Terray Bryant.
In the first quarter, the Mountaineers capped a 99-yard drive with Alec Sinkfield's 9-yard touchdown run to open the scoring.
INJURY UPDATES
Defensive end Ma'Lik Richmond left the contest in the second quarter with a sprained right ankle. Pelini said had the game been closer, Richmond could have returned.
Ursuline grad Chris Durkin made his first appearance of the season after a shoulder injury hampered the tight end's fall camp and kept him out of the team's 23-21 loss to Butler. Quarterback Nathan Mays — who missed time with a nerve issue in his leg — dressed, but didn't play.

STILL ON LEAVE
YSU co-defensive coordinator Richard McNutt did not travel to Morgantown with the team as he remains on administrative leave. He was put on leave a few days before the Sept. 1 home opener because he is the subject of a university internal investigation.
More like this from vindy.com