Doors at Arms swing open to Valley's glorious past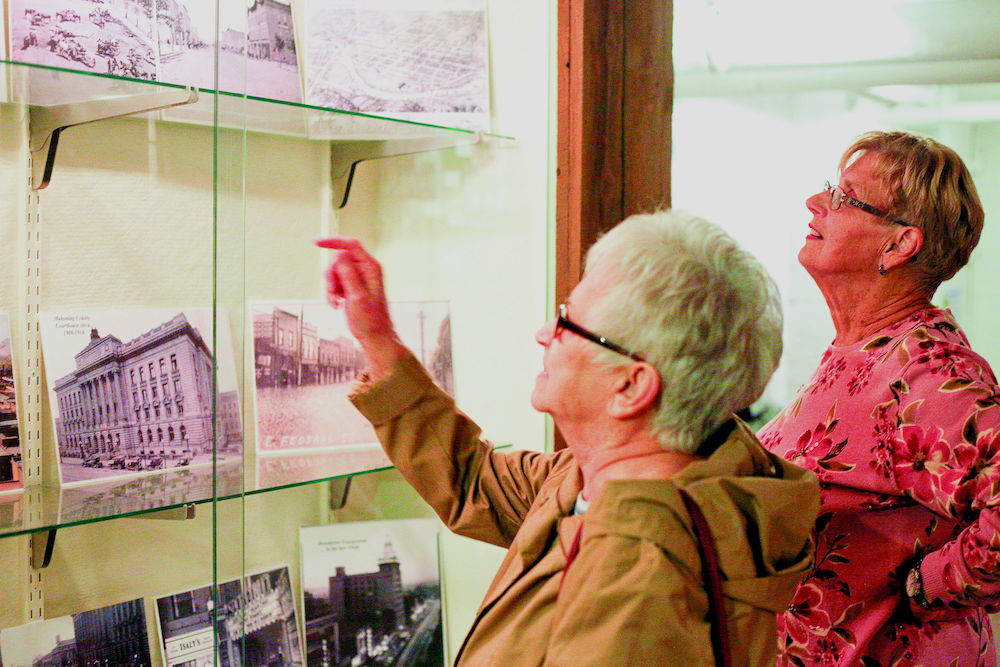 ---
By SEAN BARRON
news@vindy.com
YOUNGSTOWN
One aspect of Olive F.A. Arms' personality that was etched in stone was her intolerance for hurtful words toward others.
"She was well educated and embraced all religions, but she did not like gossip," Teresa Kinney said about Arms, who had the inscription, "Around these hearthstones, speak no evil word of anyone," inscribed in stones above the fireplace in the sitting room of the mansion she lived in until her death in 1960 at age 95.
Kinney, a tour guide with the Mahoning Valley Historical Society, shared a variety of facts about one of the Mahoning Valley's most prominent families during an open house Sunday afternoon at the 113-year-old home, now the Arms Family Museum, 628 Wick Ave., on the North Side.
The four-hour gathering was largely to celebrate MVHS' 143rd anniversary, which is today, said H. William Lawson, the historical society's executive director, who noted that Olive Arms bequeathed the home and its contents to the MVHS.
Also at the open house were representatives with the McKinley Memorial Museum and Library, the Niles Historical Society, the Melnick Medical Museum at Youngstown State University and the Youngstown Historical Center of Industry and Labor, Lawson added.
Her husband, Wilford P. Arms, was a businessman and president of Realty Investments who worked in the former Realty Building downtown before he died in 1947.
Olive Arms often used the sitting room to entertain and have tea with guests, Kinney explained. Nearly everything in the room is original, and it features stained-glass windows with emblems that tell the story of "work, worship, trade, play, the marketplace and war," which were common refrains in many people's lives during the early 20th century, she continued.
"[Olive] wanted it to be most welcoming, because she wanted guests to enjoy themselves while they were here," Mike Brenner, another MVHS tour guide, said about the spacious dining room.
That room features stained-glass peacock feathers that reflect her love of the large birds, which are perhaps best known for their iridescent tails. Also, two etchings in the hood above the fireplace symbolize Wilford Arms' interest in collecting ships, some of which are in the adjacent solarium, Brenner added .
Other items on prominent display in the room include five golf trophies he won, including one for a putting contest in 1912; a silver tea set that may have been the last gift Olive Arms' mother bought for her and her four sisters; a broach Olive's grandmother wore to commemorate the loss of a loved one; and a Spanish brazier made of wood and metal that resembles an outdoor fire pit and acted as a "conversation piece," Brenner said.
Attendees also learned more about President William McKinley, courtesy of Amber L. Farris, director of the 101-year-old McKinley Museum in Niles.
"He was a quiet president. People know little about his accomplishments," which include having annexed Puerto Rico and Hawaii decades before it officially became a state in 1959, Farris explained.
The nation's 25th president also loved carnations and often wore one on his lapel. Before his assassination in 1901 in Buffalo, N.Y., he gave the flower he had worn to a little girl, Farris said, adding McKinley was responsible for the carnation being declared the Ohio state flower.
Items that likely elicited some people's memories of the Valley's steel-producing days included newsletters from the Youngstown Sheet & Tube Co., photographs of the former Youngstown Steel Door during World War II and a black-and-white picture taken of several women who worked in traditionally male-oriented jobs as part of that war effort.
"We want them to understand that the steel mills were here due to the area's natural resources. Working in the mill was dangerous work, but it helped develop our Valley's success prior to Black Monday," noted Marcelle Wilson, a YSU history teacher and a site manager with the Youngstown Historical Center for Industry and Labor, also known as the Steel Museum.
The region once had the single highest percentage of home ownership in the country because of the plentiful, good-paying jobs in the mills, she added.
Also helping some attendees to step back in time was a series of books pertaining to the Valley that were on display, including "Idora Park: The Last Ride of Summer" by Rick Shale and Charles J. Jacques Jr.
Despite Sunday's inclement weather, about a dozen people embarked on a walking tour of Wick Avenue to see its recent improvements and historic buildings along the corridor.
More like this from vindy.com